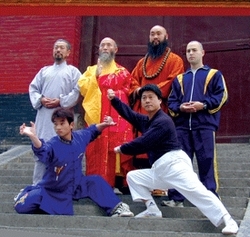 (Vocus) April 27, 2010
This China tour explores the Shaolin Temple, the famed learning centre for Zen Buddhism, Shaolin kung fu, traditional herbal medicine and the arts, such as painting and calligraphy.
Long recognized for its important influence in promoting Chinese culture around the world, Shaolin knowledge, including the practice of kung fu, dates back to 1500 BC. The Shaolin Temple is one of the cradles of Chinese martial arts and travellers will enjoy a martial arts performance, vegetarian lunch in the temple and tour the Pagoda Forest, a cemetery of 246 pagodas containing the ashes of eminent monks.
Travellers on this China tour will also enjoy a special visit with giant pandas at the Beijing Zoo, the Terra Cotta Warriors in Xian, as well as walk the mighty Great Wall of China – an ideal China tour for families. Other highlights include a Shanghai acrobatic show and lunch with a local family, where guests will learn to make traditional Chinese dumplings.
Tours depart from Vancouver, Calgary, Edmonton, Toronto, Montreal and Ottawa and start from just $2499. All departures are guaranteed with a minimum of 2 people.
ChinaPac International specializes in travel service to China and the Orient. ChinaPac is proud to celebrate 25 successful years in the travel industry as the premier travel package tour operator to the People's Republic of China and South East Asia.
For more information, visit chinapac.com
Media contact:
Otis Ashby
ChinaPac International
604-731-1693 ext 26
###