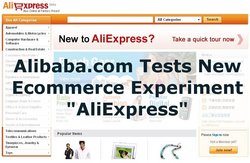 AliExpress is an example of a large public-listed company fearlessly diversifying into unfamiliar waters
Shenzhen, Guangdong (PRWEB) August 20, 2009
The China wholesale market welcomed a new major player on Monday with B2B giant Alibaba.com Limited (HKG:1688) launching a new service - 'AliExpress' - modelled on existing Chinese B2C ecommerce portals.
China Wholesale market veteran, Chinavasion.com congratulated Alibaba on their launch:
"AliExpress is an example of a large public-listed company fearlessly diversifying into unfamiliar waters," said Rose Li, Chinavasion.com Public Relations Spokesperson. "As the first website to offer direct-from-China wholesale, Chinavasion.com would like to wish Alibaba the best of luck in their new startup."
Chinavasion was the first company, in 2005, to offer wholesale electronics sent from warehouse stock in China to international buyers.
Alibaba's main website enables Chinese sellers to advertise to buyers, boasting 8.6 million registered users, but the AliExpress website is a fresh launch in the style of a dot-com startup.
The new AliExpress website is found on the main Alibaba.com domain, but represents a major departure from Alibaba's core business, according to Chinavasion's Rose Li:
"The main Alibaba.com is essentially an advertising website: no deals are transacted. AliExpress is different. It's ecommerce with international shipping, and that's 100% new business territory for the Alibaba group."
Chinavasion's Rose Li drew a clear distinction between the AliExpress service and Chinavasion:
"Chinavasion is a true wholesaler. Products advertised on Chinavasion.com are all real products in our warehouse stock. Products advertised on AliExpress, on the other hand, are from thousands of different small Chinese suppliers and are not guaranteed to be in stock."
Chinavasion regularly publishes statistics demonstrating its exceptional ship-out speeds and quality standards. Chinavasion is always quick to emphasize the importance of speed and quality control for meeting buyer's requirements, areas where smaller China sellers will commonly fall short.
The AliExpress site explains that Alibaba will guarantee order fulfillment under an escrow arrangement. This will be the first international test of Alibaba's proprietary AliPay online payments system, already widely recognized within Mainland China as a payment method for the Alibaba group's eBay-style auction website Taobao, and a would-be competitor to eBay's Paypal system.
What is unclear, commentators point out, is whether Alibaba will take a leaf out of Paypal and EBay's book and provide strong buyer guarantees. Chinavasion's Rose Li commented:
"Will buyers get what they want from AliExpress? Each supplier you find in AliExpress will have their own concepts of acceptable quality and speed. Since the goods are neither sold nor shipped by Alibaba themselves, the burden will still fall to the buyer to investigate and test each and every different supplier in the system before trusting them with orders."
Chinavasion's Rose Li said her company was happy to act as a yardstick buyers could use for comparison with the prices and services they might find on AliExpress.
"We would like to offer our site Chinavasion.com as a price comparison for people shopping online through AliExpress. We are confident we offer a more user-friendly experience without the need to worry about quality, speed, or trust of unknown Chinese suppliers."
###