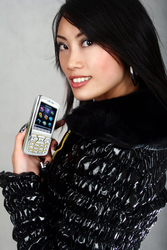 Hundreds of customers have been asking us when we were going to start stocking mobile phones
Shenzhen, Guangdong, China (PRWEB) May 15, 2008
Chinavasion Wholesale Ltd has strengthened its position as China electronics wholesale market leader recently, launching a brand-new range of wholesale mobile phones and mobile phone wrist watches.
The market interest in smart phones has skyrocketed ever since smart multimedia phones like the Apple iPhone and RIM BlackBerry captured the publics' collective imagination.
China mobile phone manufacturers are now producing well-constructed smart GSM and 3G mobile phones; breaking well-known brand names like Nokia, Apple, Samsung, LG and Motorolas' stranglehold on the mobile phone market.
This had created a fantastic opportunity for eBay traders and electronics importers everywhere.
Chinavasion's PR manager Rose Li said there was a great deal of interest in this product line and the company was very proud to be able to launch the eagerly awaited wholesale mobile phone category.
"Hundreds of customers have been asking us when we were going to start stocking mobile phones," said Rose Li. "We wanted to make sure that the phones we entered the market with were the best made, best featured and best-priced phones available."
According to Rose Li, online mobile phone shop owners who stocked their shelves from Chinavasion's wholesale mobile phone range would be able to stay ahead of competitors. As they would be selecting from mobile phone watches and wholesale mobile phones with cutting edge features like touchscreen technology and multimedia capabilities.
Read more of this press release at Chinavasion.
###