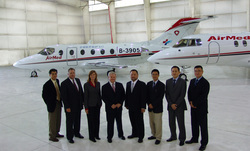 Air Ambulance of the Year
Birmingham, AL (PRWEB) September 15, 2009
AirMed Asia, a subsidiary of leading U.S. air ambulance company AirMed International, has entered into a joint venture agreement with China-based Asia Air Medical (AAM) in which the two companies will cooperate in the Greater China region (People's Republic of China, Hong Kong, Macau and Taiwan) to expand air medical transport operations. "We are very pleased to partner with Asia Air Medical to expand AirMed's coverage area beyond Hong Kong," said AirMed International CEO Jeffrey Tolbert. "This will allow both of our companies a greater geographic reach in providing the citizens of Asia with the best medical transport available."
The joint operation will feature strategically stationed Beechjet aircraft permanently configured for medical flight, with initial operations commencing in Beijing and Shanghai. The aircraft will be Chinese registered, providing access to most domestic airports in China and a centralized geographic proximity for all transports. AirMed Asia will staff the aircraft with medical teams and utilize its highly acclaimed 24/7 dispatch and medical coordination system to guarantee the highest quality of patient care and transportation. "Our plan is to establish a new Chinese communication center in the near future as well as more bases in the western region of China," said Asia Air Medical CEO Wilson Kao.
Asia Air Medical (AAM) is the first dedicated air ambulance service company in China. It was recognized for its importance and needs especially after the 2008 Sichuan province earthquake. In upholding the principle of "providing a much needed service to the Chinese community," AAM will take on the role of air medical transportation service provider in partnership with AirMed's renowned worldwide experience to expand operations into domestic airports within China.
About the air ambulance company AirMed Asia
AirMed Asia is the first and only USA air ambulance company with a base in Asia. It operates a state-of-the-art Hawker 800 medical jet from Hong Kong. In April, 2009, AirMed Asia was awarded full accreditation from the Commission on Accreditation of Medical Transport Systems (CAMTS), the highest standard possible for an air medical transport service. AirMed Asia, the only accredited program in Asia, is one of only four international programs to achieve this status. U.S. based AirMed International is the parent company of AirMed Asia and operates a fleet of medical aircraft from multiple worldwide bases. AirMed is a consecutive, two-time winner of the International Travel Insurance Journal's "Air Ambulance of the Year" award in 2007 and 2008 and has flown more than 15,000 global transport missions. For more information, see AirMed's website at http://www.airmedasia.com or call +852-3756-3680 in Hong Kong.
# # #