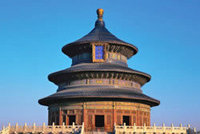 Alhambra, CA (PRWEB) July 22, 2008
China, as well as the rest of Asia, is becoming the next frontier in traveling - an exciting land with a distinct culture and a rich history just waiting to be discovered. A great China travel or Asia tour is always savored by travelers around the globe.
Ritz Tours, provider of high quality and unforgettable China travel tours as well as Asia travel packages, turns travel dreams into reality. With nearly three decades of experience as well as dedicated and personalized service, Ritz Tours can give a traveler the best quality Asia and China travel tours at the most affordable prices. With the company's recent launching of their new website, China travel plans or Asia tours has never been easier. The new website comes complete with a very user-friendly site including China travel destinations, Asia tour packages, city packages, hot deals and basically, everything that every traveler will need in having an unforgettable Asia or China travel tour.
As the country continues to enjoy the warm rays of summer, now is the perfect time to make those travel plans into reality. Walking down the historical Silk Road is not a far cry. Marvel at the historical sights of Beijing; explore the mixture of antiquity and modern development of Shanghai; experience the religious culture of Tibet and enter a world of diverse cultures and glories with the guided China travel tours of Ritz Tours.
Enjoy the spiritual enlightenment and mystical experience of Thailand; walk through the land of the rising sun, Japan; be awed by the magnificent Taj Mahal in India; witness diverse Singapore and modern Hong Kong; see the ornate architecture of the mammoth temples of Cambodia; and relish the tapestry of the old-fashioned villages, sophisticated cities and delicious cuisine of Vietnam with Ritz Tours' Asia Travel deals.
Whether a traveler seeks a historical journey in a specific region or pan-Asian International travel deals, Ritz Tours has the right vacation package. The company can also personally craft and customize China travel tours or any Asia tour to quench a traveler's thirst for an exceptional and an unparalleled journey to the Far East.
About Ritz Tours
Ritz Tours is an industry leader in providing the most memorable China travel tours and other Asia tours at the best prices. A member of highly respected and recognized travel associations, Ritz Tours is a proud member of the U.S Tour Operators Association (USTOA), Pacific Asia Travel Association (PATA), American Society of Travel Agents (ASTA) as well as the International Airlines Travel Agents Network (IATAN).
###