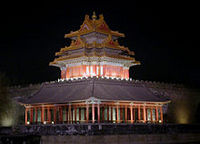 Manchester UK (PRWEB) August 23, 2008
Ever since the late 1970s, when China first opened its doors to the travelling public from the rest of the world and relaxed its entry requirements, people have been keen to experience the ancient culture and unique sights of the country for themselves, and tourism now represents a significant part of the Chinese economy.
Highlights such as the Great Wall of China, the Terracotta Army, and Forbidden City in the capital Beijing have become the staples of China tours with some of the best known tour operators in the world. The country lends itself extremely well to organised tours because of the large distances that lie between many of the biggest attractions.
Thanks to the Olympics, which have been highlighting the area around Beijing, viewers have been able to see a lot more of the country than is possible on the standard escorted tours of China from operators such as Kuoni, and this has encouraged travellers to try and go it alone so that they are able to discover the country for themselves.
While China has made efforts to enlarge the freedoms of travellers to the country, there are still many restrictions in place regarding access to many areas of China, and it is important to remember this before attempting to book a package holiday to China, as only the larger tour companies are generally able to offer passes to some of the sights thanks to their close relationship with officials.
While it appears as though the whole of China is now open for business, certain areas are not accessible to foreigners without a lengthy application process being carried out. These are normally arranged through the larger tour companies, which gives the illusion of an easy to follow process, when in fact the process is very lengthy and convoluted.
Areas that are not open to foreigners include Chinese Tibet, many of the industrial cities in the south of the country, and parts of Sichuan province, as these were heavily affected by the recent earthquake. When a person tries to book access to such areas, they will generally be met with language barriers and more red tape than is practical to surmount.
With the predicted number of British visitors to China likely to approach one million in the next few years, the larger tour companies such as Kuoni are unlikely to face a great deal of competition from smaller operators due to their ability to offer a comprehensive service that makes visiting this large country seem a lot more straightforward than it actually is.
For information about booking escorted tours of China and discovering the legacy of the most successful Olympic games in recent years, visit http://www.lowcostdeals.co.uk and find out more.
###