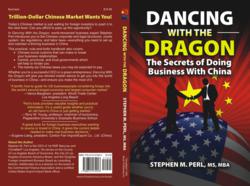 Consumer demand in China is about to explode for 'Made in the USA' goods. So why aren't we treating CHINA like one of our best clients?
New York, NY (PRWEB) February 15, 2012
New book released by Arbor Books New York—"Today's trillion-dollar China market is about to crack wide open—it's just waiting for foreign investors to push it to the next level. It presents a great opportunity for US businesses to get in on the ground floor," states Stephen Perl, leading trade US expert on trade and author of his new book, 'Doing Business with China: The Secrets of Dancing with the Dragon."
In President Obama's 2010 State of the Union speech, he stated "We will double our exports over the next five years, an increase that will support two million jobs in America".
Stephen Perl, author of the new book, Doing Business With China: The Secrets of Dancing With the Dragon says, "There has never been a better opportunity to make money in the Chinese market".
"Today, China is the fastest growing economy and the fastest growing market for US goods in the World," says Mr. Perl, one of the world's leading experts on China and its trade. "It's vital that US businesses take advantage of this trillion-dollar market. Consumer demand in China is about to explode for 'Made in the USA' goods. So why aren't we treating CHINA like one of our best clients?" questions Mr. Perl.
According to the Office of the US Trade Representative (USTR), exports to China neared one hundred billion dollars, an increase of nearly a third over the previous year. Additionally, US exports to China accounted for more than 7% of overall American foreign export.
"Doing Business With China" is a practical, nuts-and-bolts handbook on how to do business in China, with detailed methods for establishing successful relationships with Chinese government and business leaders. Mr. Perl provides critical cultural, political, and business insight from a US perspective.
Mr. Perl says doing business with the Chinese is more about partnering and guanxi (relationships) than making money right away. If US businesses want to ensure their future in the Chinese market, they must realize mutual benefits are measured in personal relationship as well as remuneration. Companies like General Electric, Pepsi, and many other large US corporations have figured this out. Now it's time for everyone in the US to do the same.
Even China's Vice President Xi Jinping agrees that developing business relationships between our countries is of the utmost importance. "No matter what changes affect the international situation," he asserted in a Reuter's interview, "our commitment to developing the Sino-US cooperative partnership should never waver in the face of passing developments."
Rich with insightful and practical information, "Doing Business With China" provides precise details and insider secrets regarding the Chinese:

corporate structure
legal structure
courts system
tax regulations
labor laws
banking system
BK laws
cultural traditions
financing trade with them
understanding China's sales channels and more….
Mr. Perl says his book is designed for small and large business executives, CEOs, entrepreneurs, government and private think-tank policymakers as well as employees who are doing or planning to do business with China.
"I spent years building relationships and setting up and growing companies in Asia and China," says Mr. Perl. "This experience has enriched my life in business and culturally as well. China can be your successful business destination. Our future economic growth lies in successful cooperation between the US and China."
For more information on book, or to contact Mr. Stephen M. Perl, MS, MBA, at visit Book's website.
"Doing Business With China: The Secrets of Dancing With the Dragon" by Stephen M. Perl is available on Amazon.com, Kindle.com, Nook.com, and other major retailers as electronic and hardcover book.
About the Author
Stephen Perl is the CEO of 1st PMF Bancorp, a leading US commercial bank lender, and the founder and CEO of ChinaMart Los Angeles, the first non-government platform that assists and supports Chinese with investing in the US and with US trade. Located at Los Angeles International Airport (LAX), ChinaMart is the largest physical showroom and investment platform of its kind in the US. Mr. Perl actively serves on the County of Los Angeles Board of Governors and the City of Los Angeles Economic Advisory Board. Additionally he is a director on the board of the Commercial Finance Association, the largest commercial lender's association in the US, and a certified United States Export-Import Bank loan officer.
("Doing Business With China: The Secrets of Dancing With the Dragon" by Stephen M. Perl, MS, MBA; ISBN: 978-0-615-57494-3; $19.99; 172 pages; 5½" x 8½"; ChinaMart USA Book Publishing, Inc.)
###