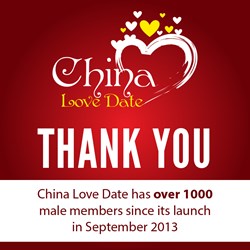 Thank you to all our existing members.
(PRWEB UK) 22 November 2013
The newly launched website China Love Date announces its 1,000th membership signup. The online dating site helps Western men meet Chinese women through emails and online communication, and ultimately through face-to-face meetups in China.
The 1,000th membership mark notes the rapidly growing site, which is prestigious for its honest, legitimate profiles. Currently, the site has thousands of female Chinese members and male Western members.
Each female on the site has been put through a vetting process to earn a spot on China Love Date, and is also well educated about both Chinese and Western cultures. Individual profiles include physical information like age, build, weight, height, and nationality. Biographies also feature information about a specific female's education, whether or not she would be willing to relocate, type of occupation, and if children are desired in the future.
China Love Date connects provides translators, and connects members with the following steps: love notes, letter translations, gifts, beauty calls, video calls, and—ultimately – rendezvous. Men can send pre-written love notes to interested females to make the first connection. Then, personalized letters between both parties can be exchanged, as well as gifts with the site's form of currency in coins. Gifts can include flowers, toys, beauty packs, chocolate, and perfume.
Finally, as relationships progress, telephone and video calls can be made to facilitate an even deeper personal connection. Should a couple agree to meet, agents with the site coordinate the communication and final meet-up process in China to ensure both parties are comfortable.
Founder Marcus Crellin has been travelling to China for the past four years and was a member of many dating websites. He created China Love Date as he discovered that many sites lacked legitimate profiles and wanted to create a site where people could hope for and find true love.
"We've all seen movies that feature long distance romances, like Sleepless in Seattle, and online relationships like in You've Got Mail," said Crellin. "We follow that premise – to help people find love, no matter the geographical restrictions."
About China Love Date
China Love Date is an online dating site designed to help Western men meet women in China. Recruiters search for credible applicants in China, and selected candidates are put through a strict vetting process. For more information, visit http://www.chinalovedate.com.