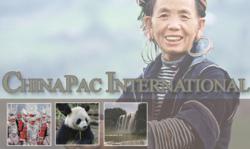 Vancouver, BC (Vocus/PRWEB) March 28, 2011
Chinapac International, premier specialist in China & the Orient since 1985, is thrilled to announce the new 16 Day Ethnic Minorities of Guizhou - an exceptional, escorted from Canada China tour that offers the best insights to China's unparalleled eminence in culture, ethnicity and natural beauty.
This extraordinary China tour features Guiyang and nearby towns where the unique tribal villages dwell and natural sceneries sighted in every direction. Guests will embark on land excursions to the majestic Huangguoshu waterfalls, the largest waterfall group in the country, and several ethnic villages of this southwestern province; take advantage of the opportunity to consort with its residents and the 2000-year-old traditions they practice to this day that is so well-kept, it is as though stepping over a time boundary that differentiates the customs of today and that of centuries ago.
"It's exciting to announce this new tour as there hasn't been one that's quite like it," said Chinapac International founder Jenny Soares. This particular tour is different in such a way that China is introduced from the perspective of its indigene minorities.
In brief, Guizhou is a province of wondrous terrains and diverse ethnic minorities that reserves the liberty to call itself one of China's best kept treasures. It rests in the southwestern region of China and awaits to share its glorious attributes to the curious and adventurous travelers. "A refreshing shift from tourism-focused areas that are inherent to China as a travel destination," Soares added.
Additionally, tours of prominent cities like Shanghai, Beijing and Xian will also be included in this elaborate itinerary. Travelers can expect to visit some of the country's renowned tourist sites such as the Terra Cotta Warriors in Xian, the remote section of the Great Wall, Mutianyu, plus the bustling urban city that is Shanghai.
Escorted from Canada, 16 Day Ethnic Minorities of Guizhou is scheduled for departure on May 7, 2012 starting at $3199 land package. Airfare may be purchased at competitive rates through Chinapac International for its partner carriers. For more information, visit http://www.chinapac.com or dial 1-800-661-8182 to speak with a specialist.
Chinapac International specializes in travel service to China and the Orient and is proud to celebrate 26 successful years in the travel industry as the premier travel package tour operator to the People's Republic of China and South East Asia.
###