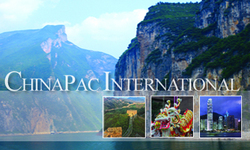 We, at Chinapac, are very proud to launch these enriched deluxe Yangtze and China programs for the 2011 season
Vancouver, BC (Vocus) November 17, 2010
Chinapac International, premier specialist in China & the Orient since 1985, is pleased to announce an exciting new lineup of deluxe Yangtze and China tours for this coming year.
Designed with quality and luxury in mind, Chinapac International's new 2011 China tours feature 5-star properties with more inclusions and exceptional guides to take travelers through the vast Chinese country. From astonishing sightseeings, admissions to many extravagant cultural shows, to deliciously authentic meals, these refined Yangtze & China tours warrant a first-class oriental experience.
"We, at Chinapac, are very proud to launch these enriched deluxe Yangtze and China programs for the 2011 season," said Chinapac International president, Jenny Soares. "These tours will feature the best accommodations and services there is, not to mention the award-winning guides that host our clients throughout China."
The 6 Day Very Deluxe Beijing tour explores the capital city of China through visits to prestigious sites such as the Great Wall, Tian An Men Square, Forbidden City, Temple of Heaven and many more. One highlight of this guided stint is the Hutong Cycling tour where participants are escorted along the narrow alleys of old Beijing on traditional bicycles and meet with a local family after. In addition, travelers will be treated to several special meals and cultural shows for the absolute Beijing experience.
Meanwhile, the 11 Day Deluxe Beijing, Xian & Shanghai package will have travelers not only explore the rich culture of Beijing, but also that of two other major Chinese cities: Xian and Shanghai. Excursions to the Terra Cotta Warriors site and Big Wild Goose Pagoda in Xian, while city tour of Shanghai including The Bund, Xintiandi and a visit to the legendary Yu Yuan Garden are just some of the incredible features of the program. Riveting acrobatic show and authentic chinese meals are among the additional highlights of this China tour.
The 13 Day Deluxe Best of China truly showcases the best of China. With expeditions to renowned sites and cultural exhibitions, participants will find themselves engaged in the nobility of each city on this itinerary. Cities of interest include Beijing, Xian, Guilin and Shanghai.
Last but not least, the 14 Day Deluxe Yangtze Downstream and 14 Day Deluxe Yangtze Upstream tours will include a prominent 3-day sail along the majestic Yangtze River aboard the MV President Prime Cruiser. Aside from the breathtaking scenery of the Yangtze, guests will be hosted to exciting shore excursions to Shibaozhai in Fengdu county and the remarkable Three Gorges Dam site. Both programs will also showcase city tours in Beijing, Xian, Chongqing, Yichang and Shanghai, ultimately encompassing China's grandiosity.
Departures for these 2011 Deluxe Yangtze and China tours will begin operating in April. For more details, visit http://www.chinapac.com
Chinapac International specializes in travel service to China and the Orient and is proud to celebrate 25 successful years in the travel industry as the premier travel package tour operator to the People's Republic of China and South East Asia.
###