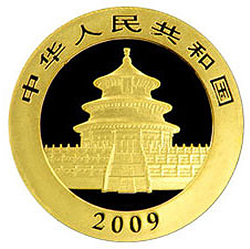 Universal City, CA (Vocus) October 4, 2010
Chinese gold coins are becoming a dominant force in global trade as gold bullion value is gaining traction over the US dollar. More countries to include India, Japan and Bangladesh are making large international gold purchases to hedge against the financial economic crisis. Most countries have started gold buying programs to back their central banks and are encouraging their citizens to invest in gold.
Chinese gold bullion coins also known as the Gold Panda are guaranteed by the government for weight and purity. The 1 ounce, 24 karat, gold bullion coins have gained a reputation to equal the Canadian gold maple leaf coin. While most countries are having to look outside their borders to acquire gold, China holds an advantage as the largest gold producer.
The Swiss gold franc has the strongest perceived values due to Switzerland's stable economic history but it can not meet global demand. The gold Krugerrand is the most traded form of gold bullion in the international marketplace with a recent upset. In August of 2010 an anonymous Swiss buyer purchased all the gold Krugerrands from the Rand Refinery pushing availability back to mid September. This buyout caused the European market to explore other resources for gold investing with China emerging into the spotlight.
Recently India purchased over 200 tons from the International Monetary Fund IMF Gold bullion stockpile made available to the international market. In contrast, China has been able to acquire most of its gold from right inside their own country. China also holds enough inventory to supply other countries looking to invest in gold. Chinese gold bullion is gaining popularity due to its quality and availability.
US Gold dealer Regal Assets has been encouraging its clients to purchase a diversity of gold bullion to include Chinese gold, swiss gold francs and gold Krugerrands. Regal has updated their new website so that Americans can buy gold online and have it shipped direct to their home and take physical possession. The Chinese gold bullion coins can be purchased by phone at 1-888-700-9887 or online http://www.RegalGoldCoins.com.
# # #