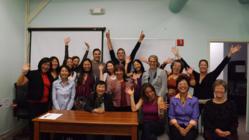 If you have [been taught by] Dr. Yu for a day, she will be like a mother for the rest of your life
San Francisco, CA (PRWEB) October 19, 2012
The American College of Traditional Chinese Medicine (ACTCM) of San Francisco recently celebrated the graduation of 15 Traditional Chinese Medicine (TCM) Dermatology students; the first in the United States to complete a program specializing in dermatology for licensed acupuncturists.
The 256-hour program taught instruction on common and hard-to-treat dermatological conditions such as acne, lupus, rosacea, scleroderma, ulcers, vitiligo and warts. The curriculum included 90 hours of clinical training, including clinical theater, grand rounds, and instruction in compounding herbal pastes, creams and other external applications.
Professor Jialing Yu, MB/BS, LAc, a highly experienced and extraordinarily loved educator and practitioner, interviewed every applicant that was admitted into her program. She developed personal relationships with each of her students who, in turn, played a vital role in Dr. Yu's health over the course of the program.
Dr. Yu experienced a few serious health issues and personal injuries that almost compromised the completion of the TCM Dermatology program. Her work with her students and the students' devotion and respect for Dr. Yu made the classroom feel more like a large family gathering with Dr. Yu being the mother.
"If you have [been taught by] Dr. Yu for a day," ACTCM President Lixin Huang said in her opening speech at the graduation, "she will be like a mother for the rest of your life."
Students arrived at their graduation thinking they had completed their education at ACTCM, but Dr. Yu took her role as educator and adopted mother to heart and planned one last lesson.
"I'd like to talk to you today about prosperity," Dr. Yu began, "It is very important to love people and to love your patients. There is only one thing in life to avoid: money." She then presented a white envelope to Ms. Huang which included her entire salary after taxes from the TCM Dermatology program, in total a $14 thousand dollar donation.
Ms. Huang plans to set up a foundation in Dr. Yu's name and hopes to raise over $100,000 to give back to the ACTCM students.
Dr. Yu maintains a close relationship with her students. She pushed her students to grow and to become good specialists. She will always stand behind her students and expects them to become better practitioners than herself. If they do not become better than her, she believes she was not successful in training them.
A complete list of the TCM Dermatology Specialization Certificate graduates and the location of their practices follows:
About the American College of Traditional Chinese Medicine San Francisco
The American College of Traditional Chinese Medicine (ACTCM) has been at the forefront of educating students in Traditional Chinese Medicine in San Francisco since its inception in 1980. Their two degree programs—the Master of Science in Traditional Chinese Medicine (MSTCM) and the Doctorate of Acupuncture and Oriental Medicine (DAOM)—provide a truly exceptional professional education.
ACTCM's community clinics serve as a diverse and demanding training ground for their students, while providing affordable healthcare services to the community. ACTCM's certificate programs in Tui Na and Shiatsu and its introductory classes for the public offer additional educational opportunities for current ACTCM students, healthcare professionals and the general public.
Those who receive Bay Area acupuncture treatments are informed that sterile, disposable needles will be used. Because the needles are thin, solid and pliable, most people feel little to no discomfort. Patients typically feel energized and relaxed, and are given a recommended course of treatment and self-care based on a specific TCM diagnosis. ACTCM practices treating, among other ailments, allergy relief, pain management and fertility treatment in San Francisco.