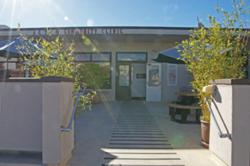 ACTCM makes the clinic affordable to the community.
San Francisco, CA (Vocus/PRWEB) January 13, 2011
During the months of January through March, 2011, the American College of Traditional Chinese Medicine (ACTCM) in San Francisco is offering $19 acupuncture appointments Monday and Thursday mornings from 8:30am-12:30pm at their community clinic located at 450 Connecticut on Potrero Hill.
The college helps members of the community experience the benefits of Traditional Chinese Medicine in their relaxing and affordable clinic. On average, over 135 students treat more than 350 patients in the Community Clinic each week.
"ACTCM makes the clinic affordable to the community," said Alissa Cohan, Director of Communications at the American College of Traditional Chinese Medicine. "There aren't many places that practice either Western or Eastern medicine where you can you walk in, focus on all of your body ailments, and walk out feeling healed, relaxed, and better for only $19."
Acupuncture restores balance and health, and is used for everything from chronic pain to drug dependence. It is also an effective allergy, weight loss, and fertility treatment. During treatment sterile, disposable needles are inserted at acupuncture points along the meridians. Because of the thin and pliable needles used, most people feel little to no discomfort as the needles are inserted, and patients often feel energized or a deep sense of relaxation and well-being.
To make the most of the session, ACTCM recommends wearing comfortable clothing to the treatment and eating 1 to 2 hours before the treatment, and also avoiding caffeine, alcohol, and other stimulants. They would also like new patients to bring copies of previous tests, lab results, and any medications or supplements being taken, along with a list of current symptoms and health concerns.
The appointment line is (415) 282-9603. Before the first appointment, new clients should download and fill out the New Patient Form located at http://www.actcm.edu/userfiles/New%20Patient%20Form.doc. 24 hours notice is required for all cancellations. Patients who cancel without 24 hours notice will be charged a $15 cancellation fee.
For more information, call (415) 202-5713 or visit their website at http://www.actcm.edu.
About the American College of Traditional Chinese Medicine San Francisco
The American College of Traditional Chinese Medicine (ACTCM) has been at the forefront of Traditional Chinese Medicine education since its inception in 1980. Their two degree programs—the Master of Science in Traditional Chinese Medicine (MSTCM) and the Doctorate of Acupuncture and Oriental Medicine (DAOM)—provide a truly exceptional professional education.
ACTCM's community clinics serve as a diverse and demanding training ground for their students, while providing affordable health care services to the community. ACTCM's certificate programs in Tui Na and Shiatsu and its introductory classes for the public offer additional educational opportunities for current ACTCM students, healthcare professionals and the general public.
###