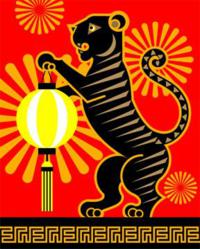 San Francisco, CA (Vocus/PRWEB) March 21, 2011
For nearly half a century the conservation efforts of the World Wildlife Fund (WWF) have been represented by a panda, also one of the best-known symbols of Chinese culture. As the organization approaches its 50th birthday, a Bay Area institution is also celebrating a partnership with WWF that aims to preserve both endangered species and the traditions of China.
San Francisco's American College of Traditional Chinese Medicine (ACTCM) has worked with WWF for 14 years to protect endagered species in China and other Asia countries. While herbal remedies may be gentler on the human body than Western pharmaceuticals, they can have an environmental impact; some ancient Chinese remedies formerly incorporated ingredients taken from rhinoceroses, tigers, and other animals that are under threat in the fragile ecosystems of today.
While tigers have been officially banned from use in Chinese Medicine since The China Tiger Trade Ban since 1993, some commercial interests and tiger farms seek to re-open tiger trade using the excuse that tiger parts are necessary ingredients for Chinese medicine. ACTCM's collaboration with WWF has sent a strong message to the world that the established Chinese medicine community - in China and abroad - want to uphold the Tiger Trade Ban, and that they do not need this gravely endangered species to save lives.
ACTCM's partnership with WWF has developed a public outreach initiative on endangered species used in traditional Chinese medicine, and represents an important conservation milestone. No other college of Chinese medicine has worked so diligently on both the national and international levels to facilitate dialog and collaboration between the conservation and Chinese medical communities.
The partnership began in 1998, when the college first collaborated with WWF to foster communication between the conservation community and traditional Chinese medicine practitioners. ACTCM's efforts have also involved the U.S. Fish and Wildlife Fund, the World Bank, and the Council of Colleges of Acupuncture and Oriental Medicine (CCAOM). Just last year ACTCM played a key role in CCAOM's passage of a resolution calling for the end of the use of tiger parts in any remedies, as well as a commitment to finding ways to insure greater sustainability of Chinese herbal medicine.
Even more impressive, though, has been ACTCM's efforts to promote the cause of saving tigers in China itself. In 2009 the institution organized an international gathering in Beijing to draw attention to the threat to endangered species. Then in January of this year, ACTCM hosted a delegation from China that is developing a conservation curriculum that will eventually be implemented in eight universities in Southern China. The delegation consisted of representatives from WWF China, the State Forestry Administration of China and Chengdu University of Traditional Chinese Medicine, who have been working collaboratively on the project.
In 2010, the Year of the Tiger, ACTCM joined major international conservation efforts to protect wild tigers. In conjunction with the World Bank, international organizations such as WWF and the U.S. Fish and Wildlife Service's Save the Tiger Fund are mobilizing scientists, government officials and policymakers in tiger range countries to take action to protect wild tigers. ACTCM has been the lead representative from traditional Chinese medicine collaborating with these groups, making strides in the environmental responsibility of Chinese medicine.
ACTCM also promotes balance and harmony with nature through its academic curricula and clinical training every day.
For more information about ACTCM's dedication to saving endangered wildlife, or for information about the school and its community clinics, call (415) 202-5713 or visit their website at http://www.actcm.edu.
About the American College of Traditional Chinese Medicine
The American College of Traditional Chinese Medicine (ACTCM) has been at the forefront of educating student in Traditional Chinese Medicine in the Bay Area since its inception in 1980. Their two degree programs—the Master of Science in Traditional Chinese Medicine (MSTCM) and the Doctorate of Acupuncture and Oriental Medicine (DAOM)—provide a truly exceptional professional education.
ACTCM's community clinics serve as a diverse and demanding training ground for their students, while providing affordable health care services to the community. ACTCM's certificate programs in Tui Na and Shiatsu and its introductory classes for the public offer additional educational opportunities for current ACTCM students, healthcare professionals and the general public.
Bay Area acupuncture treatment, as taught by ACTCM, restores balance and health, and is used for everything from chronic pain to drug dependence. It is also effective for allergy relief, weight loss, pain management and fertility treatment. During treatment sterile, disposable needles are inserted at acupuncture points along the meridians. Because of the thin and pliable needles used, most people feel little to no discomfort as the needles are inserted, and patients often feel energized or a deep sense of relaxation and well-being.
# # #