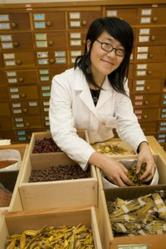 Now our patients can be seen by a doctor and head to our pharmacy to access the finest herbal remedies, conveniently located on campus in the Community Clinic
San Francisco, CA (PRWEB) May 26, 2012
The American College of Traditional Chinese Medicine San Francisco (ACTCM) recently opened its herbal clinic in the Potrero Hill neighborhood. Open every Wednesday and Thursday from 5 pm to 9 pm, the clinic provides private consultations with physicians to precisely customize herbal prescriptions.
"Now our patients can be seen by a doctor and head to our pharmacy to access the finest herbal remedies, conveniently located on campus in the Community Clinic," said Alissa Cohan, director of communications for ACTCM. "Since we also monitor various dimensions of our patients' health, they can be confident in knowing that they are receiving comprehensive treatment."
The herbal clinic at ACTCM ensures that the herbs it dispenses are organic, and checked regularly for freshness and effectiveness. ACTCM pharmacists, who are trained in Chinese medicine and healing techniques, customize premium herb formulas for individual patients that treat a wide variety of conditions and diseases.
Since 1981, ACTCM has served its community in providing expert services in acupuncture, massage, moxibustion, cupping, herbal and Chinese medicine in the Bay Area. By using ancient Chinese herbology techniques, the ACTCM clinic provides remedies, including allergy relief, pain management and fertility treatment in San Francisco.
ACTCM pharmacists ensure that each patient receives medicine with the most effective potency. The full-service herbal dispensary carries an extensive selection of high-quality raw herbs, powdered herbs and herbal pills.
American College of Traditional Chinese Medicine is the only teaching clinic of its kind in San Francisco. In an effort to make the quality health care at ACTCM affordable to the public, rates at the Community Clinic are on a sliding scale based on income.
For more information about the American College of Traditional Chinese Medicine or its new herbal clinic, call (415) 282-9603 or visit http://www.ACTCM.edu. ACTCM's herbal pharmacy is located on the ACTCM campus at 450 Connecticut Street, San Francisco, California.
About the American College of Traditional Chinese Medicine (ACTCM)
The American College of Traditional Chinese Medicine (ACTCM) has been at the forefront of educating students in Traditional Chinese Medicine in the Bay Area since its inception in 1980. The college offers two degree programs—the Master of Science in Traditional Chinese Medicine (MSTCM) and the Doctorate of Acupuncture and Oriental Medicine (DAOM). Both programs provide exceptional professional education.
Those who receive acupuncture treatments are informed that sterile, disposable needles will be used. Because the needles are thin, solid and pliable, most people feel little to no discomfort. Patients typically feel energized and relaxed, and are given a recommended course of treatment and self-care based on a specific TCM diagnosis.