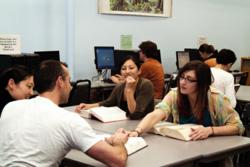 Achieving a core school/life balance is key to the success of any graduate student
San Francisco, CA (PRWEB) August 09, 2012
The American College of Traditional Chinese Medicine in the Bay Area has just revamped their class schedules to fit the needs of students who juggle school, work and other important responsibilities. Starting now, ACTCM's registration is open and courses are offered Monday through Wednesday for the first level of the program. Registration is now open.
"Achieving a core school/life balance is key to the success of any graduate student," said Lee Swain, ACTCM's director of student and alumni affairs. "To that end, ACTCM has re-designed the curriculum to allow students to better achieve that balance."
All ACTCM students enrolled in a full-time course of study will have the benefit of having classes on Monday through Wednesday, leaving the rest of their week and weekends open for work, family and other important commitments. Freeing up more time for student to work also has the potential to lessen the financial burdens that many students routinely face.
ACTCM begins new courses every three months and once a student has taken and mastered all of their core classes, they begin clinical studies outside of the college for which, schedules may vary.
For further information about the ACTCM student experience, call the admissions office at 415-401-0464 or contact the admissions department via email at admissions(at)actcm(dot)edu or visit http://www.actcm.edu. ACTCM has monthly open houses for prospective students to attend. Details can be found at ACTCM.edu. The next open house is Saturday, August 18th, 2012 at 1 pm. Join ACTCM for its next webinar, "Get Ready for Fall Quarter 2012!" – a discussion of the steps to prepare for the fall quarter of the Master's program in Traditional Chinese Medicine.
For more information about the American College of Traditional Chinese Medicine's community clinics, call (415) 282-9603 or visit ACTCM.edu. ACTCM's clinic is located on the ACTCM campus at 450 Connecticut Street, San Francisco, California.
About the American College of Traditional Chinese Medicine (ACTCM)
The American College of Traditional Chinese Medicine (ACTCM) has been at the forefront of educating students in Traditional Chinese Medicine in the Bay Area since its inception in 1980. The college offers two degree programs—the Master of Science in Traditional Chinese Medicine (MSTCM) and the Doctorate of Acupuncture and Oriental Medicine (DAOM). Both programs provide exceptional professional education and ACTCMs teaching clinic provides affordable, quality patient care.
Bay Area acupuncture treatment, as taught by ACTCM, restores balance and health, and is used for everything from chronic pain to drug dependence. It is also effective for allergy relief, weight loss, pain management and fertility treatment.