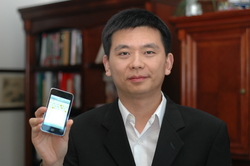 Our Program chose HNHSoft's product over others after extensive research.
Burlington, MA (PRWEB) April 22, 2009
HNHSoft announces the release of its mobile English-Chinese Talking Dictionary - the first language translation software that supports Apple's iPhone and iPod Touch platforms. For Apple aficionados, conducting business while in China just became a lot easier. Finding just the right word has always been the bane of the traveler to new lands. How many of us are still embarrassed by the memory of asking for the applesauce instead of the hotel lobby? Or the pool instead of the art museum? And as an ambassador for his or her company, a business traveler can see the importance of putting the best words forward.
Worry no more, business travelers. HNHSoft's Talking Dictionary and Talking Phrase Book download in minutes onto mobile Apple iPhone and iPod Touch handhelds. This is the first product of its kind developed for use on Apple platforms. These innovative language tools contain over 90,000 entries and over 120,000 translations. Travelers can learn the pronunciation of words or phrases phonetically, see them written in the appropriate alphabet, and hear them pronounced in the natural voices of real people. Travelers can choose to turn on the setting that Romanizes Chinese characters (the so-called Pinyin in the official Chinese language), and view the Chinese characters in Simplified or Traditional form.
The translation tool can translate from English to Chinese and from Chinese to English. Travelers love the "study" feature, which allows a user to build and save a customized list of words and return to this list later. This feature comes in handy when a traveler wants to save frequently used words in one place.
For those not traveling as far as China, HNHSoft will release its Talking Dictionaries and Talking Phrase Books in five European languages that support Apple iPhone and iPod Touch platforms in late spring 2009. HNHSoft licenses the European language data and brand from the 157-year-old Larousse Publishing House.
Note: HNHSoft's Talking Dictionaries and Talking Phrase Books already support Windows Mobile, BlackBerry, Java enabled smart phones, Palm OS.
Check out the HNHSoft website at hnhsoft.com for more information.
About HNHSoft:
HNHSoft was co-founded by Song Han and Wei Huang, both of Burlington, Mass., and Jian Zhang, Ph.D. Mr. Zhang is chief technology officer and general manger of HNHSoft's R&D center in Beijing, China. The United Nations Chinese Language Program (UNCLP) adopted the HNHSoft Talking Dictionary as its official teaching tool in 2008, bringing cutting-edge voice and mobile technologies to UNCLP's language teaching programs. "Our Program chose HNHSoft's product over others after extensive research.", Dr. Yong Ho, director of UNCLP said, "We found that the Dictionary's contents are comprehensive and authoritative."
###