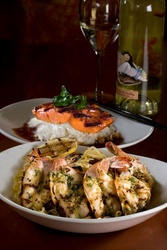 SCOTTSDALE, Ariz. (PRWEB) February 7, 2008
When preparing Chinese food, grilling is often overlooked as a cooking technique because of the prominence of the wok. But like all cultures, the Chinese learned how to cook first on an open flame. Today, Chinese grilling is often associated with street food where vendors serve grilled breads, meats, fish, and fruit. Our chefs traveled to China to learn the art of Chinese grilling and brought it back to P.F. Chang's.
Chinese cuisine is based on the philosophy of Yin & Yang or balance in food. Yin represents cool mild foods and Yang represents hot or spicy foods. P.F. Chang's Grill Menu balances both Yin and Yang in every dish.
The Grill Menu
Chang's Sichuan Chicken Flatbread
We've updated the classic Chinese scallion pancake and serve it grilled with sliced Sichuan marinated chicken, layered with melted cheese and a side of creamy citrus mustard slaw and a tangy dipping sauce. 7
Lemongrass Prawns with Garlic Noodles
Grilled Jumbo Prawns brushed with herb-infused lemongrass butter and served with garlic noodles. 16
Citrus Soy Wild Salmon
Wild Alaskan line-caught salmon seasoned with Lemon Wasabi Oil, grilled and served with a citrus soy sauce and steamed rice. 17
Asian Marinated New York Strip
You can eat our steak with chopsticks! 12 oz New York Strip grilled to perfection, sliced and served with a savory sesame soy sauce on a bed of grilled bok choy. 20
In addition to The Grill Menu, P.F. Chang's has introduced The Minis nationally. There are eight tempting flavors to choose from, including a Mini of The Great Wall of Chocolate. Minis can be ordered individually or you choose an assortment to try, and the best part is you never have to feel guilty about eating dessert again! Guests like to finish the meal with something decadent, but often a full size dessert is too much. The Minis give guests the option to indulge in something sweet that isn't overwhelming. The Minis are made fresh in house and feature The Great Wall of Chocolate, Tiramisu, S'Mores, Tres Leche Lemon Dream, Banana Split, Strawberry Cheesecake, Carrot Cake and Apple Pie. Minis are $2 each.
Additional information about P.F. Chang's can be found at http://www.pfchangs.com.
Media Note: Recipe for the Grilled Lemongrass Prawns with Garlic Noodles is available.