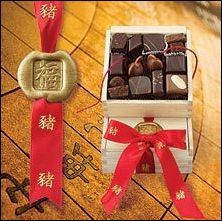 People who enjoy Asian flavors are thrilled to discover these unique chocolates.
Walpole, NH (PRWEB) January 23, 2007
Just when you thought the gift-giving season was over, along comes Chinese New Year, a worldwide celebration that promotes good luck in the new year. At New Hampshire's Burdick Chocolates, they are wishing their customers "Gung Hay Fat Choy!" ("Happy New Year") with a new product to help sweeten the celebration from February 18 to March 3.
"For our many customers who celebrate the Chinese New Year, we have created a special assortment of hand-crafted chocolate, infused with the subtle and complex flavors of Asia," said Paula Burdick, co-owner of L.A. Burdick Chocolate of Walpole, NH. "Then we place them in wood boxes tied with red and gold "Year of the Boar" ribbons and sealed with wax "Good Luck!" symbols."
Traditionally, Chinese New Year gifts are Lai-see packets, envelopes with small amounts of money in them. In the U.S., this is most-often a one-dollar bill. However, many modern day Chinese and Chinese descendents also enjoy giving other small gifts during the two-week celebration, which includes much visiting of friends and relatives. In fact, chocolates often take their place on the traditional Tray of Togetherness, a tray full of dried fruits, sweets, and candies to welcome guests and relatives.
The Asian-flavored Assortment from Burdick's was created for these customers and it includes Plum Wine Brandy, Lemongrass, Green Tea, Mango, Ginger, Cashew Sesame, Lapsang Souchong & more. "These are fine chocolates hand-crafted for a cultivated palate," said Burdick. "People who enjoy Asian flavors are thrilled to discover these unique chocolates."
The Chinese New Year Chocolate Assortments, priced from $18 to $61, may be ordered by visiting the website at http://www.burdickchocolate.com or calling 800-229-2419.
###