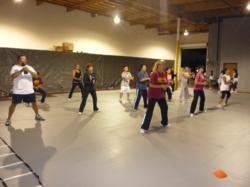 "There are no secrets to success. It is the result of preparation, hard work, and learning form failure. – Colin Powell, U.S. Secretary of State
Chino Hills, California (PRWEB) November 10, 2011
When the First Lady makes her mission to end obesity into the 'Let's Move' Campaign, it indicates that Americans have fitness and weight loss issues that stretch all the way from Washington, D.C. to Chino Hills, CA.
Local Personal Fitness Trainer, Dr. Bakhtiar, Owner of Fitness Concepts Personal Training, has designed a specialized fitness and weight loss program called the Chino Hills Boot Camp that he is currently promoting to help get Chino Hills moving.
"We get you into shape," says Dr. Bakhtiar, "by using cutting edge workouts that have been proven by science to make you lose fat and get toned as fast and as safely as possible."
Fitness Concepts has created a highly effective 30 minute workout routine that is short, fast-paced and fun and will have anyone looking better and feeling better in no time.
And even better, Fitness Concepts has taken into account that not everyone is the same, so their fitness and fat loss solutions are specific to the trainee's goals, body type and life.
Dr. Bakhtiar is not only a certified personal trainer and the founder of Fitness Concepts, he is the author of Total Body Transformation Secrets and Mr. Los Angeles, 2005.
"At Fitness Concepts," says Dr. Bakhtiar, "My hand selected team of personal trainers do not use generic fitness routines. They do not just 'stand around' holding clip boards. They DO NOT stand around checking themselves out in the mirror all day, nor go on and on telling you about our personal lives during the workouts."
What sets Fitness Concepts apart is the idea of offering a 100% Money Back Guarantee if the trainee is not 100% completely satisfied with the results. The volume of testimonials on the Fitness Concepts website provides stunning proof that Dr. Bakhtiar has a successful training formula that really works.
Click Here For more information about Chino Hills Boot Camp
Fitness Concepts
14682 Central Ave,
Chino, Ca 91710
# # #