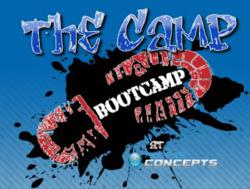 Chino Hills, CA (PRWEB) December 04, 2011
Staying fit while traveling to visit family and friends over the holiday season can be a challenge, especially when the wine and eggnog are flowing freely and grandma's homemade pumpkin pie makes its magical appearance at the dinner table. However, staying fit and enjoying oneself do not need to be mutually exclusive. Alejandra Font is a Chino Hills fitness expert at The Camp Boot Camp and offers the following advice for holiday travelers.
1. Mentally prepare to focus on fitness. Many people make the mistake of giving themselves a free pass starting with the Halloween candy and culminating in a New Year's Day feast. Then they spend the next six months trying to undo the damage they've done. Instead, focus on each day as a clean slate. When people know they will be eating extra calories at a family dinner, they should schedule their exercise accordingly. Most hotels have fitness facilities nowadays. However, if people are staying with family or friends, they can still pack their running shoes, a jump rope, fitness bands or a workout DVD to get their cardio in.
2. Explore the surroundings. One of the best aspects of traveling is being able to explore new surroundings. Sure, the winter season may not be the ideal time to explore the outdoors if people are traveling to Syracuse, New York or Caribou, Maine. However, with the right warm workout gear, a helpful guide and a spirit of adventure, the winter can still be a magical time to take a run at a local park or rent cross-country skis that a Chino Hills Personal Trainer can tell you.
3. Stick to a routine. No matter what time of day people choose to work out, they should try to stick to this schedule even when traveling. Maintaining a normal exercise routine is a great way to adjust to time changes and cope with the stress of travel. If people are feeling fatigued from travel, it's okay to make workouts lighter or shorter at first, but it's also important to push through most workouts to avoid packing on those dreaded holiday pounds.
4. Get a friend pass. At The Camp Chino Hills fitness center, visitors can score a free or discounted pass to try out the facilities if they have a friend or family member who attends regular boot camp sessions. It can be very rewarding to work out with loved ones and many people find they are able to push themselves harder when they have a support network there with them.
5. Download workout videos. Whether travelers migrate to their holiday destinations with iPhones or laptops, it's easy to save quality fitness videos onto their portable devices for squeezing in quick workouts on the run. Workouts On Demand has a lot of good videos to download for free.
"Fitness doesn't have to be drudgery," says Alejandra Font. "Holiday traveling can be a great opportunity to break the mold and exercise in new ways, with new people, in new surroundings." She also invites fitness-minded people to stop into The Camp Boot Camp,Chino Hills Boot Camp when they get back home for a free post-holiday week of boot camp to see how this type of exercise helps bust fat and boost energy levels.
###