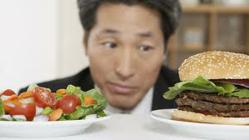 Focus on where you want to go, not on what you fear. ~ Anthony Robbins
Chino Hills, CA (PRWEB) January 02, 2012
Chino Hills weight loss and maintenance may be less about counting calories and more about listening to one's own body. A new study published in the Journal of Obesity found that mastering the art of "mindful eating" and stress reduction can help prevent weight gain, even without "dieting." The study looked at women who were chronically stressed and overweight or obese, but they were not on calorie counting diets.
Each week, the women attended an informational session about healthy eating and exercise. They learned about how to recognize body cues for hunger, fullness and taste satisfaction. Toward the end of the 9 week study, they began participating in a silent meditation retreat and were asked to set aside 30 minutes a day to meditate. Women who had the best reductions in stress and cortisol levels also saw the biggest reductions in abdominal fat, the researchers concluded.
Fit Concepts Chino Hills Weight Loss Center teaches local residents about nutrition, reading body cues, making healthy choices at snack time, and shopping for the right items at the grocery store. Each program participant receives a customized monthly meal plan based on balanced nutrition from all food groups, including lean protein, fruits and vegetables, complex carbohydrates and low-fat dairy. They are also tested for fitness, measured and weighed so their progress can be charted over the next few months.
"It can be extremely hard to lose weight on your own," explains Dr. Sam Bakhtiar, Chino Hills Weight Loss Expert and Owner of Fit Concepts. "We make it easy for people by giving them all the tools they need to succeed. For the holiday season, we're offering all new members a free nutrition consultation and a free week of fitness boot camp sessions to get them started living a healthier lifestyle in 2012."
Fitness boot camps are one of the most popular trends in fitness these days, says Sam Bakhtiar. Participants who never cared for working out in the past find that these classes are surprisingly fun. "We have them doing obstacle courses, working with exercise balls, doing team-building exercises, and following very basic routines of jumping jacks, push-ups, burpees, squats, lunges – all set to music, in a dynamic group setting. They leave sweating and panting, but feeling really good about themselves – and the results really show!"
Sam says the Fit Concepts Chino Hills Weight Loss Center has seen people lose more than 100 pounds over the course of a year. On average, participants are able to lose 8 to 10 pounds per month on their program, which blends interval training cardio, mindful strength training, and core conditioning all into a one-hour workout. For more information on the free nutrition counseling and week of boot camp, visit http://www.FitConcepts.com.
About Sam Bakhtiar
Sam Bakhtiar is a Persian-born American with over twenty years of experience in fitness training and body building. After completing B.S in Premed and Nutrition, Sam also received a degree of doctorate of Chiropractics. Along with being one of the best fitness trainers, Sam is also a business and marketing expert. After establishing a successful fitness training business with substantial income, Sam is helping other professionals in the industry to achieve their business goals. For more information, please contact using the following information.
Contact Information:
Sam Bakhtiar
Fitness Concepts
909-393-9075
http://www.FitConcepts.com
###