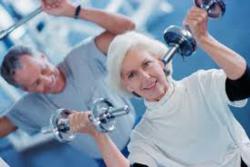 Excellence is to do a common thing in an uncommon way. ~ Booker T.Washington
Chino Hills, CA (PRWEB) January 03, 2012
Chino Hills fitness is an essential part of aging gracefully and living a longer, happier, healthier life. Regular physical activity is linked with a lower risk of depression and greater longevity, according to a recent study by health professionals at the University of Gothenburg in Sweden. Researchers found that, in some cases, physical activity alleviated depression, but in other cases, depression led to a lack of physical activity.
"An important question for the researchers to answer has been what motivates elderly people to be physically active," explained lead researcher Magnus Lindwall. He went on to say that individuals "who feel that they are competent, that they can take decisions for themselves and have freedom of choice" were more likely to be motivated to exercise. Fostering internal sources of motivation was linked with long term regular physical activity, he added.
At Fit Concepts Chino Hills Fitness Center, there are a number of senior citizens participating in fun group classes and nutrition programs that are aimed at reducing health risks, weight management, and improving longevity. Chino Hills fitness instructors motivate individuals through education and empowerment, first and foremost. They also set new members up with a no-fail strategy for success based on their initial health and fitness goals.
"Younger people come to our Chino Hills Fitness Center with their iPods… they want to get onto a cardio machine, hit the weight circuit and leave. They tend to keep to themselves and are more in a hurry," explains Fit Concepts Owner Sam Bakhtiar. "Yet, our 55+ crowd comes to our fitness boot camp for a sense of camaraderie and to fraternize with likeminded people who value health and living the good life. Once you find that physical activity is fun – and not a chore – you find it's easier to be motivated. And ultimately, people love how they look and feel after just a month of coming to the Fit Concepts program."
All newcomers to Fit Concepts Chino Hills Fitness Center receive a nutrition counseling session with custom monthly meal plans to aid in eating for heart health, weight loss, managing diabetes, or whatever questions and issues people bring to the table. "Not everyone will choose to be on a set eating schedule, but we want to make it as easy as possible and give people all the tools they need to be successful in their goals – whether it's to lose ten pounds or to incorporate more 'heart-healthy' foods and lower their cardiovascular disease risk," Sam says.
The Chino Hills fitness classes involve basic exercises using obstacle courses, exercise balls, stability balls, as well as reps of squats, lunges and jumping jacks. "People imagine a fitness boot camp to be an hour of grueling work, with drill sergeants standing over them yelling the whole time," Sam explains. "Our classes are nothing like that! We focus on interval training, so there are periods of work and periods of active recovery. This method leads to greater calorie burning and better heart benefits as well. All our exercises can be modified to be easier or harder, depending on the individual, so we really welcome people of all ages, shapes and sizes."
Visit http://www.FitConcepts.com for a free 1-on-1 nutrition counseling and goal setting session, as well as a week of free group fitness boot camp sessions.
About Sam Bakhtiar
Sam Bakhtiar is a Persian-born American with over twenty years of experience in fitness training and body building. After completing B.S in Premed and Nutrition, Sam also received a degree of doctorate of Chiropractics. Along with being one of the best fitness trainers, Sam is also a business and marketing expert. After establishing a successful fitness training business with substantial income, Sam is helping other professionals in the industry to achieve their business goals. For more information, please contact using the following information.
Contact Information:
Sam Bakhtiar
Fitness Concepts
909-393-9075
http://www.FitConcepts.com
###