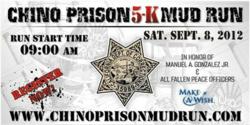 Ask not what your country can do for you — ask what you can do for your country. - John F. Kennedy
Chino Hills, CA (PRWEB) August 27, 2012
The Chino Prison 5-K Mud Run is scheduled for Saturday, September 8th at 9 a.m. The event is in honor of Manuel A. Gonzalez Jr. and all fallen peace officers who served the California Department of Corrections. A portion of the proceeds will go to the Make-A-Wish Foundation. Runners will start at the California Institute for Men (14901 Central Avenue, Chino, CA) and will include multiple obstacles. Registration for just one person is $60, but members can join The Camp Boot Camp's sponsored team for free.
The Camp Boot Camp -- located at 14682 Central Avenue in Chino, California – is the only indoor Chino Hills boot camp guaranteed to flatten tummies and sculpt the body without having to spend hours in the gym. The intense hour-long workout combines cardio intervals with resistance training and core sculpting exercises for a more effective form of total body conditioning.
"It's not for the faint of heart," says health and fitness expert, Alejandra Font. "The average participant is someone who has tried other methods of weight loss, but had trouble committing or seeing results quick enough. Most people are in their thirties to fifties, but we have people in their sixties and seventies who absolutely love fitness boot camp classes! Each exercise can be modified to be easier or more challenging, depending on your fitness level, so people of all shapes and sizes can get into it."
What makes The Camp Chino Hills boot camp different than other fitness classes is the sense of camaraderie. The Camp Boot Camp offers nutrition seminars, cooking classes, educational grocery store tours, parties, new product showcases, group dinners at local restaurants, hiking trips, bike rides, and 5-K races – to name a few activities.The goal is to promote a healthy lifestyle in every way and foster friendships that build the participants' support networks so they are more likely to succeed in meeting their goals.
The Camp Boot Camp always has total body transformation contests going on for those who wish to lose weight. There are also a number of participants who use the Chino Hills boot camp classes to train for a sport, maintain a healthy and active lifestyle, or improve their mood and mindset. Boot camp is ideal for busy professionals who find it challenging to schedule regular exercise.
Race sponsorship is an added perk that members get with The Camp, allowing the chance to be part of a winning team. In 2011, The Camp Boot Camp's team won first place against thousands of others participating in the Irvine Lake Mud Run. The team has also participated in fun local events like the ROC Race and the LA Grand Prix.Space for the 2012 Chino Prison 5-K Mud Race is limited and registration must be complete by September 1st, so interested individuals are invited to contact The Camp Boot Camp or visit their Chino Hills boot camp Facebook page as soon as possible.
About The Company:Fitness Concepts was founded in 1999 as a personal training company consisting of many talented and caring individual trainers dedicated to get their prospective clients the maximum results through proper training, nutrition and supplementation. We at Fitness Concepts believe in client education and long term client health and success, not unhealthy quick fix fad diets and programs that could be hazardous to our clients. For more information, please visit http://www.fitnessgurusam.com/chino-hills-boot-camp/.
Contact Information:
Fit Concepts Inc.
14682 Central Avenue
Chino, CA 91710
(909) 962-7745.
http://www.thecampbootcamp.com