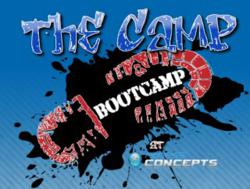 You must be the change you want to see in the world. - M.K. Gandhi
Chino, CA (PRWEB) September 01, 2012
The Fitness Concepts Boot Camp in Chino Hills, California is gearing up for their next Total Body Transformation Contest. They are taking starting weight measurements on Friday, August 31st; Saturday, September 1st; and Tuesday, September 4th. The contest costs $25 to join, but the winner will receive the whole pot!
"Why we love Total Body Transformation contests is simple," explains The Camp's leading fitness expert, Alejandra Font. "The added motivation helps people realize their dreams faster than any other method we've found so far. It's truly remarkable to watch people put in the time and effort to look their best! There's nothing like a little friendly competition, I always say!"
During the last competition, teenager Stephanie from Rancho Cucamonga lost an astonishing 34 pounds in two months, taking her weight from 179 to 144! After struggling throughout her entire teens, Stephanie was finally able to accomplish her dream. "I wasn't only getting an amazing workout, but getting a lot more motivation from my fellow campers and awesome trainers," Stephanie explains.
Sonjia Shaw is another past Total Body Transformation winner. "Before I started this awesome boot camp, I had the worst migraines and super bad stomach issues," Sonjia says. "This has turned my life upside down and I could not imagine living without it! I was someone who never worked out. I used to make fun of my husband and one of my best friends for trying to get in shape – calling them 'obsessed.' My very first day at the Camp, I laughed to myself when I saw on the wall: Obsessed is a word the lazy use to describe the dedicated.' It totally spoke to me!"
The Total Body Transformation contest puts contestants through the same exact program. Exercise sessions take place three times per week for one-hour. All contestants receive an optional nutrition plan they may follow to maximize their weight loss. The contest typically runs for 6 weeks, although some 12-week competitions come up throughout the year as well.
"Ultimately, this experience is what people pay for," explains Alejandra Font. "They want to not only see the number on the scale dip down lower, but their whole body look leaner, fitter and trimmer too. They want to lose the flabby parts and see real muscle definition. I guarantee that all participants of the contest will love their new selves!"
Interested individuals may register for the Total Body Transformation at http://www.TheCampBootCamp.com.
About: Fitness Concepts was founded on February 15, 1999. Since then, the company has helped more than 5,835 clients improve the quality of their lives. Fitness Concepts believes in client education and long term client health and success, not unhealthy quick fix fad diets and programs that could be hazardous to our clients.