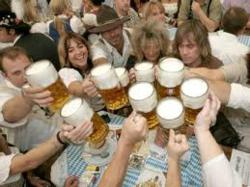 Many of life's failures are experienced by people who did not realize how close they were to success when they gave up. - Thomas Edison
Chino Hills, CA (PRWEB) September 10, 2012
September can be a challenging month for people wishing to lose weight. By this time of year, a whole summer of backyard barbeques and special events has caught up with the mid-section. September brings the German Oktoberfest season, which is known for delicious seasonal microbrews, fatty Bratwursts, potato salads, noodles basked in bacon and cream sauce, not to mention giant soft pretzels dipped in mustard. That is why the Fitness Concepts Chino Hills boot camp is offering $100 off ANY fitness program by October 31st. To take advantage of the $100 off promo, one must text FITCONCEPTS to 77453.
"I'm by no means German," says Sam Bakhtiar, CEO of Fitness Concepts. "I came to America straight from Persia. But I notice that a lot of our clients love going down to the Alpine Village Oktoberfest celebration and they come in saying they need a detox. It's a fun party, but – like any special event – it also comes with a lot of beer consumption and fatty foods on the menu. That's why we decided to run a deal now."
The Fitness Concepts Chino Hills boot camp has a wide variety of programs for all shapes and sizes. Generally, small group classes run three times a week for one hour. They involve a blend of cardio, resistance-training, and core conditioning. Modifications are offered to make each exercise easier or harder, depending on a person's fitness level. The classes are also structured as interval training, so it's not full intensity all the time. Interval training is scientifically proven as a more effective way to blast fat.
A customized meal plan accompanies the fitness program for maximum results. Participants are not given a "diet" – but rather, a sensible guideline for eating that includes all major food groups. The emphasis is on lean protein, leafy greens and whole grains. Allergies and personal preferences are worked into the eating schedule. Recipes are designed to be affordable and well-suited to the busy professional. "Cheat days" can be worked in as well, since no one is absolutely perfect.
Weight measurements are taken at the very first meeting, as well as at different points during the program. A reasonable weight loss goal is to lose 2 pounds per week. The Chino Hills boot camp typically yields results like 10 pound weight loss in the first month and weight loss of 30 pounds in less than 3 months.
Visit http://www.fitconcepts.com/chino-hills-boot-camp.html
"We want people to understand that our fitness boot camp is just a catalyst to a new way of thinking about eating healthy and exercise," says Sam Bakhtiar. "We'll give you all the tools you need to be successful and our programs are structured around short-term goals. However, many people choose to stay with us long after they've lost the weight because it's a fun social club and a great way to stay in shape."
About The Company: Fitness Concepts was founded in 1999 as a personal training company consisting of many talented and caring individual trainers dedicated to get their prospective clients the maximum results through proper training, nutrition and supplementation. We at Fitness Concepts believe in client education and long term client health and success, not unhealthy quick fix fad diets and programs that could be hazardous to our clients. For more information, please visit http://www.FitConcepts.com.
Contact Information:
Fit Concepts Inc.
14682 Central Avenue
Chino, CA 91710
(909) 962-7745
http://www.fitconcepts.com