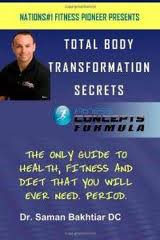 The pessimist sees difficulty in every opportunity. The optimist sees the opportunity in every difficulty.
- Winston Churchill
Chino Hills, CA (PRWEB) September 11, 2012
Total Body Transformation Secrets is a comprehensive guide to weight loss written by one of California's foremost fitness experts, Dr. Sam Bakhtiar. Not only is Sam the CEO of the popular Fitness Concepts Chino Hills boot camp franchise, but he's also a champion bodybuilder and a personal trainer with over 20 years of experience. After helping literally thousands of people reach their weight loss goals, this self-motivated, go-getter decided to share his knowledge in a book.
Though the 202-page hard copy sells for $39.99 on Amazon, Sam is offering the book as a FREE DOWNLOAD from September through December 2012. Interested individuals need only text the keyword "FITCONCEPTS" to 77453 to take advantage of the special promo.
"I want people to understand that it's not rocket science to lose pounds and reach your weight loss goals," Sam explains. "It starts with your mindset and attitude and ends with having the support network to keep healthy habits in place. In between, there is a lot to learn about the most effective exercises and eating habits for weight loss. My book really covers all of these things – and the most salient points I've learned from over 20 years in the business."
Check out http://www.fitnessgurusam.com/tag/chino-hills-boot-camp/.
Many of the purchasers of this book were other personal trainers who wanted to pick the Chino Hills boot camp CEO's brain and apply his weight loss formula to their own businesses. Yet, the book is designed as a no-nonsense guide for beginners and anyone with a general interest in physical fitness.
"The book begins with his personal story of triumph, which I really liked," said Nitin Chhoda. "There are a lot of experts and fads, but this fitness bible is really a breath of fresh air."
"This is not a program, but a lifestyle," said Jeff from Maryland. "It's about changing your perspective on health and making fitness a part of everyday life."
"It was an easy, upbeat, quick read," says Shahla Salamat. "This book is especially for someone like me who has been working out and dieting forever, but has not been able to maintain weight loss and get in shape. I especially like the sections about fat fighting tips, creating a grocery store list, and the inspirational before and after pictures."
Sam Bakhtiar explains that the problem with most weight loss strategies out there is that they do not tell people they are just losing water weight. Restricting calories and doing cardio five days a week is not enough. Sam's program is specifically designed to build muscle and burn fat reserves.
For more information, one can visit http://www.FitnessGuruSam.com.
About Sam Bakhtiar
Sam Bakhtiar is a Persian-born American with over twenty years of experience in fitness training and body building. After completing B.S in Premed and Nutrition, Sam also received a degree of doctorate of Chiropractics. Along with being one of the best fitness trainers, Sam is also a business and marketing expert. After establishing a successful fitness training business with substantial income, Sam is helping other professionals in the industry to achieve their business goals. For more information, please contact using the following information.
Contact Information:
Sam Bakhtiar
Fitness Concepts
909-393-9075
http://www.FitnessGuruSam.com