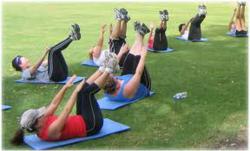 I am always doing that which I cannot do, in order that I may learn how to do it. - Pablo Picasso
Chino Hills, CA (PRWEB) September 12, 2012
Fitness boot camps are nothing new, but they are enjoying a rise in popularity – especially among women. For the first time, the Fitness Concepts Chino Hills Boot Camp reports that there are more women than men members at their studio. Last month alone, there were 75 new sign-ups from women, compared to half that number for men. The number of women boot campers has more than tripled since 1999, when the boot camp was founded.
CEO Sam Bakhtiar points to several factors that may explain the rise in female attendance for fitness boot camps. "There is a certain mystique about boot camp," he says. "People wonder, 'Why are my friends so adamant that I try this? Why do they get up and workout at 5:30 am? And how are people shedding so much fat so quickly?'"
Watch http://www.youtube.com/watch?v=q2_ToGmaCvM for a preview of some of the exercises we do at boot camp.
He adds, "Ultimately, it's the results that bring people to us, but it's the friendships that have people hooked on small group fitness for life." At Fitness Concepts, the small training groups are more like friends and family than a bunch of strangers. They go out to dinner, the movies, run 5-K races, and do their grocery shopping together.
Classes meet three times a week for one hour – typically early, at the very start of the day. "We meet before or after-work hours, so it's a convenient time for busy moms on-the-go," Sam explains. "Economically, it's also a great deal because you split the cost of personal training by everyone else in your group. Boot camp training is no longer exclusive to the rich and famous."
Fitness Concepts has tailored some of their programs exclusively to women, who feel more comfortable in a group with other women only. There are boot camps for brides-to-be and new mommy boot camp groups as well. Women who struggle with many different priorities often put themselves second to everything else, so these classes are designed to motivate, inspire and encourage. Participants can earn free months of boot camp training by referring a friend too.
"We're the only Chino Hills boot camp that 100 percent guarantees your satisfaction," Sam Bakhtiar says. "We offer a full money-back guarantee if you feel dissatisfied with your experience. We've never had to make good on that promise, mind you, but we're really adamant that you enjoy yourself here and lose every pound you set out to lose. We don't let anyone fall between the cracks."
About The Company: Fitness Concepts was founded in 1999 as a personal training company consisting of many talented and caring individual trainers dedicated to get their prospective clients the maximum results through proper training, nutrition and supplementation. We at Fitness Concepts believe in client education and long term client health and success, not unhealthy quick fix fad diets and programs that could be hazardous to our clients. For more information, please visit http://www.FitConcepts.com.
Contact Information:
Fit Concepts Inc.
14682 Central Avenue
Chino, CA 91710
(909) 962-7745
http://www.fitconcepts.com