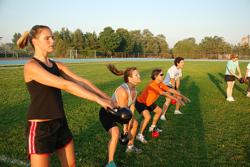 The only thing worse than being blind is having sight but no vision. - Helen Keller
Chino HIlls, CA (PRWEB) September 19, 2012
Many people wonder what sort of movement takes place at a Chino Hills crossfit bootcamp. One of the benefits of fitness boot camps is that they use very basic, easy-to-follow motions that are reminiscent of high school gym class or recruit training – yet, with a lot more fun woven in. Unlike dance classes, there are not quick changes or complex sets to memorize. By using slow-changing patterns, personal trainers ensure that people are getting a better workout in – rather than trying to figure out what to do next.
To maximize the efficiency of each workout, personal trainers deploy a tactic called "interval training." This means that there will be several minutes of top-speed, intense motion… followed by a minute of recovery. For boot campers, it's a relief that they are not going full-throttle the entire hour. Yet, trainers know that studies have shown 30 minutes of interval training to burn more calories than 60 minutes of working out at an even pace.
A new video just came out from The Camp Boot Camp. A Chino Hills crossfit bootcamp instructor demonstrates several of the core movements used in their sessions, such as: burpees, kettle bell sweeps, and bicep curl / shoulder press combos. These moves may be considered more advanced than others, so having the right form is particularly important. The video can be found on YouTube at: http://www.youtube.com/watch?v=q2_ToGmaCvM.
"We DON'T get a lot of injuries at The Camp," explains Alejandra Font. "We really make sure everyone does a warm-up and a cool-down. And we are really vigilant to make sure everyone is working out with perfect form. Kettle bells especially have gotten a bad rap over the years because people buy them, try them at home, and don't have the slightest clue how to use them. We are your guiding light!" She adds, "We can also let you know modifications to make if you are feeling worn-out or sore that day."
Alejandra says that she is always adding new Chino Hills crossfit bootcamp videos to her YouTube feed. "You know, whether it's scorpion pushups, exercise cones or rope swings… people really want to know what they're in for at a typical class. Also, many of my current boot campers will go home and watch these videos to gauge their form and refresh the best way to make the motion."
People who are interested in trying the program may do so for a $1 trial at http://www.TheCampBootCamp.com.
About The Company: The Camp Boot Camp is the only indoor fitness boot camp in Chino Hills guaranteed to flatten stomachs and tone n' tighten the entire body without requiring boring hours in a gym. The emphasis is on proper training and nutrition for long-term success. More information can be found at http://www.TheCampBootCamp.com.
The Camp Boot Camp
14658 Central Ave.
Chino, CA 91710
909-962-7745
http://www.TheCampBootCamp.com