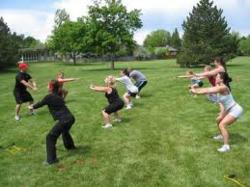 Luck is a dividend of sweat. The more you sweat, the luckier you get. - Ray Kroc
Chino Hills, CA (PRWEB) September 20, 2012
The fit your body fit boot camp Chino Hills experience is like no other. For years, fitness experts tried to offer a one-size-fits-all approach to weight loss that just didn't work. Jenny Craig and Weight Watchers only address half of the equation. Chino Hills residents that have invested in a gym membership often realize that simply walking into the building is not enough to get them pumped and motivated to make the lifestyle changes required to lose weight.
The beginning of the Chino Hills boot camp program starts with a personal consultation. This conversation will help personal trainers decide which exercises are best for a particular client's body type. A generic program might have a person with very muscular calves working out their calves even more to "bulk up," which will produce a dysmorphic look. Instead, that particular person might want to ease up on calf exercises and do a different type of movement at that time to work on building more upper leg muscle to balance out the physique.
Eating is an important part of the fit your body fit boot camp Chino Hills has to offer. Generic meal plans are often insensitive to allergies, people with gluten-restrictions, vegetarians, busy lifestyles, and budget concerns. A person's family history and medical condition may also impact food choices. A diabetic should probably not drink a sugary glass of cranberry juice for breakfast, while that would be perfectly acceptable for a marathon runner. Someone with gout flare-ups should avoid shellfish like shrimp and scallops, whereas that would be a fine protein source for someone on a low-calorie diet without a lot of uric acid in the system. Through a customized approach, Chino Hills boot campers were able to shed 35 pounds within six months and cut their total cholesterol numbers in half within twelve months.
Personal trainers lead dynamic exercises that include obstacle courses, kettle bell lifting, kick-boxing, burpees, squats, lunges, sit-ups, and other familiar motions. They show individuals how to modify each movement to be more challenging or easier so they can adjust based on how they're feeling. They will also watch to see that everyone is in perfect form, so there are no injuries. Individuals recovering from injury or dealing with a chronic condition can receive individual attention in these small group classes too.
Visit http://www.fitconcepts.com/fit-your-body-fit-boot-camp-chino-hills.html.
The fit your body fit body camp Chino Hills program is a unique approach to fitness that can't be found in a big box gym. To start a $1 trial or learn more, one can visit http://www.fitconcepts.com.
About Sam Bakhtiar
Sam Bakhtiar is a Persian-born American with over twenty years of experience in fitness training and body building. After completing B.S in Premed and Nutrition, Sam also received a degree of doctorate of Chiropractics. Along with being one of the best fitness trainers, Sam is also a business and marketing expert. After establishing a successful fitness training business with substantial income, Sam is helping other professionals in the industry to achieve their business goals. For more information, please contact using the following information.
Contact Information:
Sam Bakhtiar
Fitness Concepts
909-393-9075
http://www.fitconcepts.com