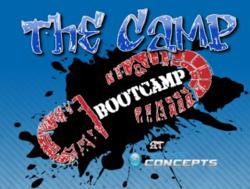 Nobody can go back and start a new beginning, but anyone can start today and make a new ending. ~ Maria Robinson
Chino Hills, CA (PRWEB) November 16, 2011
"This is the only indoor fitness boot camp in Chino Hills that's guaranteed to flatten your stomach and tone and tighten your entire body without spending boring hours in a gym," said Dr. Sam Bakhtiar of Fitness Concepts, and who made today's announcement.
As a co-owner of Fitness Concepts, Dr. Bakhtiar and partner, Alejandra Font, have over 50 years of experience in the fitness industry. "Alejandra and I have designed what we believe to be the most effective workout and nutrition program on earth," said Dr. Bakhtiar.
"If you'd like to forget about spending hours in a typical boring gym... as a matter of fact, who really wants to be in a boring gym anyway doing the same old same old?" questioned Dr. Bakhtiar, who, along with Alejandra, have helped thousands of local residents get in the best shape of their lives.
"We'd love the opportunity to do the same for you," he added.
People are generally skeptical, and wouldn't necessarily want to take Dr. Bakhtiar's word for it. And of course, the proof is always in the eating of the pudding. So, their anticipating of this kind of response, Dr. Bakhtiar and partner Alejandra have invited such person to go visit their site where there are videos to watch and lots of testimonials to read from their neighbors and friends who regularly attended their Chino Hills Bootcamp.
"We can't wait to help you achieve your health and fitness goals," said an enthused Dr. Bakhtiar, who is waiting to schedule a time to get persons into their boot camp and do a quick assessment with them.
According to Dr. Bakhtiar, the assessment was designed to allow them to customize the best program for the clients. Besides, their trainers know exactly how to help participants in their Chino Hills Boot Camp workout program shred the pounds and keep them off.
"Not only are you going to get the best work out in a fun atmosphere with great people, but we are going to help you get to the body you truly deserve," claimed the Chino Hills Boot Camp workout Dr. Bakhtiar.
According to Dr. Bakhtiar, he is totally confident that participants in their workout program are going to love "The Camp Bootcamp", which he noted produce outstanding results with their body. "So confident that I am going to offer you a 30-day, no question asked, full money back guaranteed," he said.
ABOUT THE CAMP BOOT CAMP
Fitness Concepts, founded on February 15, 1999 by Dr. Bakhtiar and Alejandra Font, is a personal training company consisting of many talented and caring individual trainers dedicated to get their prospective clients the maximum results through proper training, nutrition and supplementation. Bakhtiar and Alejandra believe in client education and long term client health and success, not unhealthy quick fix fad diets and programs that could be hazardous to our clients. Since then, the partners have helped 5,835 and counting clients improve their quality of their life. What do they mean by quality of life? Quality of life, for them, means when someone gets in better shape, not just physically, but also emotionally, spiritually, and financially.
For further information, please contact: Dr. Sam Bakhtiar, Owner, (909) 693-5303, or visit The Camp Boot Camp at http://www.TheCampBootCamp.com
###