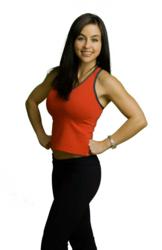 We are what we repeatedly do. Excellence, therefore, is not an act but a habit. ~ Aristotle
Chino Hills, CA (PRWEB) November 17, 2011
She had been on countless ineffective diets and workouts... simply put, she was wasting her money, time, and effort, and nothing was working in her favour. After she had had second of two children, the feisty Chino Hill's mom, Alejandra, finally decided enough is enough, and finally decided to enroll in the Dr. Sam Bakhtiar's "Chino Hills Boot Camp".
"Finally, it was then I discovered exactly how to make the lasting changes in my body without completely depriving myself," testified Alejandra, who is now in her 40s and looking and feeling better than she had ever been.
"The best thing about my transformation is that I'm now helping hundreds of men and women achieve the body of their dreams... this has now become my life's passion," she added.
Christina, a Chino Hills resident and a client of Chino Hills Boot Camp, noted that when working out with the Bootcamp in Chino Hills, she feels she's getting every penny's worth out of her workouts. According to her, she can't believe she now "enjoys going to the gym three days a week."
"I really do enjoy it, and even more so, I enjoy the results of losing over 35 pounds, 24+ inches, and dropping my fat percentage over 11 per cent," added Christina. She is also claiming that her healthy diet and exercise were the contributing factors, coupled with having the accountability and knowledge of a personal trainer, to her receiving those results.
Lillian, another of Chino Hills Boot Camp clients and resident of Chino Hills, commented that after she became pregnant with her twin boys, she reached a "discomfort" level that made her life feel miserable, and that was what made her join Chino Hills Boot Camp at Fitness Concepts and got the privilege to be trained by Dr. Sam Bakhtiar.
"Everything about my transformation felt right with the guided help of the entire team of trainers. The knowledge they provide to help you achieve your goals is worth gold and it's information that continues to help me stay in shape," said Lillian, who has since reached her goal of wearing shorts again.
"I've lost 52 pounds and 32 inches off my body, and now living a new and healthy life style," she added.
Bring up the rear Scott, another Chino Hills Boot Camp evangelist and Chino Hills' resident said that if it weren't for the "awesome trainers there, I wouldn't be inspired to reach my life style goals."
According to him, they possess the right knowledge and are living examples of a healthy lifestyle. "As a result, I followed exactly what they have taught me, and in just a short span of three months, I lost 12 pounds. Even his body fat percentage decreased to 15 per cent," said Scott.
"The Camp has taught me how to mold my body and mind into any shape or state that I wish it to be," he added.
ABOUT FITNESS CONCEPTS
Fitness Concepts, founded on February 15, 1999 by Dr. Bakhtiar and Alejandra Font, is a personal training company consisting of many talented and caring individual trainers dedicated to get their prospective clients the maximum results through proper training, nutrition and supplementation. Bakhtiar and Alejandra believe in client education and long term client health and success, not unhealthy quick fix fad diets and programs that could be hazardous to our clients. Since then, the partners have helped 5,835 and counting clients improve their quality of their life. What do they mean by quality of life? Quality of life, for them, means when someone gets in better shape, not just physically, but also emotionally, spiritually, and financially.
For further information, please contact: Dr. Sam Bakhtiar, Owner, (909) 693-5303, or visit Fitness Concepts Personal Training at http://www.fitconcepts.com
###