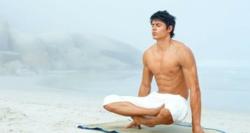 Blessed are the flexible, for they shall not be bent out of shape. ~ Unknown
Chino Hills, CA (PRWEB) November 17, 2011
Fitness Guru Sam is the Chino Hills Boot Camp and Personal Training blog of Dr. Saman Bakhtiar, who over the years has helped thousands of family and friends right there in Chino/Chino Hills get in the best shape of their lives, and he wants to do the same for others.
According to Dr. Bakhtiar, the blog was designed to help Chino/Chino Hills residents lose weight, feel great, and add years to their lives.
"I absolutely love being a personal trainer, because it allows me to change lives," he said, and invited you to go read his most recent blog post, "Yoga and Men - They Do Mix and with Good
Reason http://www.fitnessgurusam.com/2011/10/31/yoga-and-men-they-do-mix-and-with-good-reason/".
According to the post, yoga is not the first type of exercise persons will see on many men's to do list. Looking at the foundation of this exercise regimen, though, the reader will clearly see that men have always made it a part of their health regimen.
Today, it claimed, modern man is turning to using yoga, too, since it provides some of the most satisfying results.
"For men who have yet to try it, considered the numerous benefits it can offer to daily life," wrote Dr. Bakhtiar, author the new book, "Total Body Transformation Secrets, which teaches everything about fitness.
Among the areas that the post tackles are:

Stress Busting Power
Make Yoga Part of Your Fitness Program
De-Compacting Yoga
Flexibility Matters Too
"For many men," Dr. Bakhtiar argued, "age wears down flexibility. If climbing the stairs or standing up after sitting for a while causes you to grab at your back, it could be because your muscles are simply too tight."
Therefore, he noted that yoga provides a great way of helping to improve flexibility throughout the body.
Even for younger men, he said yoga is a good thing, because it allows them safely to play sports. He claimed it reduces the risk of developing injuries.
For those men looking for a way to get back into shape, or to extend more flexibility to the body, Dr. Bakhtiar conclude that yoga can be the tool that helps me accomplish just that.
For further information about Chino Hills Boot Camp and how yoga can improve the body's flexibility and muscle strength, please contact: Dr. Sam Bakhtiar, Owner/Author, (909) 693-5303, or visit http://www.fitnessgurusam.com/.
###