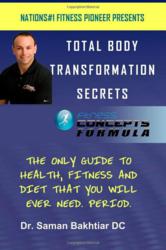 The significance of a man is not in what He attains but in what He longs to attain. ~ Kahlil Gibran
Chino Hills, CA (PRWEB) November 18, 2011
Celebrated Chino Hills boot camp facilitator, chino hill personal trainer and author Dr. Saman Bakhtiar's new book, "Total Body Transformation Secrets" is now out and available at amazon.com, and he's today inviting persons who have a problem maintaining their normal body weight to get their copy before it's too late.
"You simply have nothing to lose, except some unwanted pounds of body fat," said the chino hills personal trainer, Dr. Bakhtiar about the 202-page paperback book that reveals all the lessons he has learned in his 18 years as a top competitive national bodybuilder.
Dr. Bakhtiar is also owner of the weight management company Fitness Concepts and one of the most sought-after fitness professionals in California.
"This book will teach you everything you ever wanted to know about fitness," he said of the book, Total Body Transformation Secrets, the fitness concept formula.
Dr. Bakhtiar's book has also received some amazing reviews, and following are a couple of them that extolls his unique fitness concept formula:

A. Cruz: "I have had the pleasure of reading this informative book and meeting Dr. Sam in person. He is an amazing man that is filled with a wealth of knowledge willing to share with his clients. Now he has taken his proven system of transforming people's lives and given it to us...oh, yeah the money from this book doesn't even go to him but to help the Shriner's Hospital. If you are looking for a book that will show you how to get the body you want and help children at the same time. This is a no brainer. Dr. Sam really has just given us the blue print to success. Thank you for your generosity."
J. Baskerville: "This book... tells everything in simple format so that beginners can understand and old pros can appreciate it. Good reading for all ages; no matter what fitness level you are at you will learn something that you can apply to your daily living. (It's) well written and very informative information."
Liesbet Bickett: "No other book covers all the aspects necessary to change your body and your health as clearly and well laid out as this book. I will recommend this book to all my weight loss and fitness clients and use it to reinforce what they need to do to create a complete body transformation."
Brett: "This book is dead on. The concepts are clear, simple, and effective. I highly recommend Dr. Bakhtiar's book to anyone who truly wants to change their lives through exercise and fitness."
Jeff of Cockeysville, Maryland, USA: "Sam... talks about the main thing keeping you from reaching your goal.... Mindset! He makes it easy to understand and follow. This is not a program, but a lifestyle. It's not something you start with plans of stopping sometime in the future. It is about changing your perspective on health and fitness and making it part of your everyday life! If you have bought other books or products in the past and still haven't reached your goal, then this book is a must. I am really happy I found this book. Thanks Sam!"
Nitin Chhoda: "The book begins with his personal story of triumph and has a simple, no nonsense approach to fitness and weight loss. If you are serious about losing body fat and building muscle, then this should be a bible. There are a lot of experts, and several fads in the weight loss industry, but this book is like a breath of fresh air, leading the way with a precisely targeted fat loss plan that will strip the extra pounds of fat from your body and reveal the muscle tone you always wanted. Well done Sam, this book is a masterpiece and I hope you decide to write a second one."
Shahla Salamat: "Total Body Transformation Secrets" is an excellent book if you're a fitness beginner who's trying to figure out how to get in shape and stay in shape!! It was an easy upbeat quick read which was great!! This book is especially for someone like me who's been working out and/or dieting forever but has not been able to maintain weight loss and get in shape. Dr. Sam (chino hills boot camp facilitator) does an awesome job of explaining the basics of fitness and of giving awesome tips of how to manage eating without all the fluff you find in most books. This book covers the proper way to exercise, (do) both aerobics and weight training, (having) a proper diet, not some fad diet, but rather how to eat real food in a healthy way, and how to motivate yourself and keep yourself motivated to stick to your goals."
For further information about the book, "Total Body Transformation Secrets", please contact: Dr. Sam Bakhtiar, Owner/Author, (909) 693-5303, or visit http://www.fitconcepts.com
###