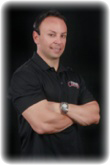 The greatest mistake you can make in life is to continually be afraid you will make one. ~ Elbert Hubbard
Chino Hills, CA (PRWEB) December 05, 2011
Diet fads have always been a problem area for a Chino Hills Personal Trainer, particularly because they offer unhealthy solutions that do not deliver results.
In order to combat these and to ensure the safety and wellness of clients, Fitness Concepts has its own discipline, which follows guidelines and includes procedures that will aid clients in improving their body both inside and out.
Importance of exercise and a nutritional diet
When getting into shape, Fitness Concepts maintains that it is best to keep a healthy diet that consists of fruits and vegetables, whole grains, food loaded with omega-3 fatty acids and other nutrients, and a variety of healthy food choices. There is also a need to avoid junk food that can affect the health or worsen any health risks.
Nutritional services by Fitness Concepts
To guide clients on their nutritional journey, Fitness Concepts provides nutritionists who are knowledgeable on the proper food to eat. Clients can be assigned a nutritionist who will guide and teach them if a certain food should be included in their diet.
This will be based on a nutritional plan that has been designed personally to follow one's progress as well as to target specific problem areas.
In addition, assessing one's progress in terms of weight and body mass is an important issue. This is the reason for the need for a comprehensive body composition assessment that is included in the nutritional program. These tests can include a body fat test and circumference measurements.
Part of the Fitness Concepts services is the body fat test. It is important to determine one's body mass in order to know how much body fat has. This allows the client to know how much weight to lose in correlation to the ratio of fat to muscle in the body.
Circumference measurements are also offered by a Chino Hills Personal Trainer. This service ensures that clients can determine total inches that are trimmed from their body.
About Fitness Concepts
Fitness Concepts is a personal training company that was founded in February 1999. Since then, it has helped more than 5,000 clients to improve their lives with proper training, nutrition, and supplementation. Instead of unhealthy quick fixes or diet fads that may lead to hazardous effects, Fitness Concepts believes in educating its clients on the importance of the combination of exercise and dieting. More than just establishing the foundation of health and wellness in every client's life, Fitness Concepts builds their self-confidence and inner strength. Visit the website at http://www.fitconcepts.com for more details.
###