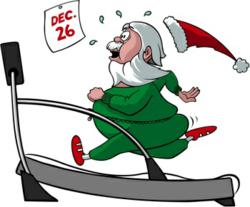 Much we learn only to forget it again; to stand by the goal, we must traverse all the way to it. ~ Rückert
Chino Hills, CA (PRWEB) December 09, 2011
There is a reason why most people opt to go with personal training along with a nutritional diet plan when trying to lose weight—it works. And with the help of a Chino Hills Personal Trainer, one can get started on losing weight in a healthy and monitored fashion.
What Fitness Concepts offers
When one enrolls in a program offered by Fitness Concepts, there are various ways by which one can attain good training.
One program is the personal training, which gives the clients access to a personal trainer who can use his professional experience to customize an exercise program. This will ensure a safe and efficient program that is tailor fit to a client's position.
Other programs include sport specific programs, bodybuilding, flexibility improvement, weight loss and firming, core training, and swimming lessons, to name a few.
Get toned, fast
The meaning of fast does not mean instantaneous, because Fitness Concepts does not promise instant results that are not achievable through exercise or proper diets.
Fitness Concepts personal trainers are dedicated to having their clients attain and maintain a specific weight that is healthy for their body type.
Body fat reduction, weight reduction and management, and body shaping and toning are just some of the promises that these trainers can help clients by setting them with realistic goals and providing safe strategies to achieve them.
Make the right choices when it comes to food
Reaching one's ideal weight and body with exercise is just the first part of every personal training routine. With Fitness Concepts, one can also expect an education on the importance of being conscious of what one eats.
A personalized nutrition plan will be drafted to keep one on the right track while on a personal training program.
Aside from this, Fitness Concepts clients can also monitor their progress through a comprehensive body composition assessment with the help of a Chino Hills Personal Trainer.
About Fitness Concepts
Fitness Concepts is a personal training company that was founded in February 1999. Since then, it has helped more than 5,000 clients to improve their lives with proper training, nutrition, and supplementation. Instead of unhealthy quick fixes or diet fads that may lead to hazardous effects, Fitness Concepts believes in educating its clients on the importance of the combination of exercise and dieting. More than just establishing the foundation of health and wellness in every client's life, Fitness Concepts builds their self-confidence and inner strength. Visit the website at http://www.fitconcepts.com for more details.
###