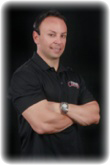 The block of granite which was an obstacle in the pathway of the weak, became a stepping-stone in the pathway of the strong. ~ Thomas Carlyle
Chino Hills, CA (PRWEB) December 08, 2011
For women, hitting the gym, going on a diet, and achieving a nice figure is the ideal way to lose weight. At Fitness Concepts, a Chino Hills boot camp ensures that clients will be better educated with the exercise routines that they follow.
Pregnancy Workouts
A woman's body changes when pregnancy occurs, and these changes do not just happen outside the body. Hormonal changes are factors that should be taken into consideration, and this is particularly why Fitness Concepts has developed exercise routines that target this specific market group.
Pre partum pregnancy workout
Pregnancy comes in different stages for women. Whether one is trying to conceive or is already an expectant mother, one can be sure that something has already changed in the body.
For pre-partum workouts, Fitness Concepts has a specialized program to achieve amazing fitness and health to ensure that the expectant mother will be in top shape, therefore assuring that the health of the baby will be at its optimum.
Post partum pregnancy workout
Similarly, post partum pregnancy workouts are also beneficial for women who have just given birth. This is because a woman's journey towards good health does not end there.
Getting back into shape and maintaining the best physical condition is the main concern for women at this stage.
Exercise for wedding preparations
Achieving one's ideal weight for a wedding can be very stressful, and most times, this is when women would succumb to promises of instant weight loss from various products.
With Fitness Concepts, Chino Hills Personal Trainer would provide clients with efficient solutions to ensure that deadlines and time limits will be achieved for one's grand day. As such, one can be assured that these solutions would make use of the proper health guidelines, tested exercise programs, and proper nutrition.
About Fitness Concepts
Fitness Concepts is a personal training company that was founded in February 1999. Since then, it has helped more than 5,000 clients to improve their lives with proper training, nutrition, and supplementation. Instead of unhealthy quick fixes or diet fads that may lead to hazardous effects, Fitness Concepts believes in educating its clients on the importance of the combination of exercise and dieting. More than just establishing the foundation of health and wellness in every client's life, Fitness Concepts builds their self-confidence and inner strength. Visit the website at http://www.fitconcepts.com for more details.
###