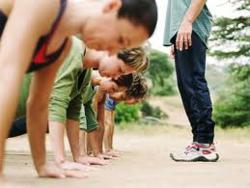 Great works are performed not by strength but by perserverance. ~ Samuel Johnson
Chino Hills, CA (PRWEB) December 23, 2011
January is a busy month for the Fit Concepts Chino Hills boot camp. Many people join fitness boot camps to jumpstart their New Year's resolutions to lose weight and/or get healthier. These fat-blasting classes meet three times a week for one hour and use a combination of strength training and interval cardio training to most effectively encourage fat loss and body sculpting. Yet, it can be difficult to find class openings come January because it is so busy. For this reason, Dr. Sam Bakhtiar is encouraging early sign-ups, where interested participants can lock in their place in the class and also save $100.
"It's easy. Text FITCONCEPTS to 77453 by December 30th to take advantage of my holiday promotion," Sam explains. "Someone from my Chino Hills boot camp will call you back and schedule an initial consultation. You'll come in and tell us about your personal goals and any medical conditions you want to manage better. We'll weigh and measure you, so you can track your progress over the course of the program. We'll also set you up with a no-fail nutrition plan and fitness schedule that starts after the holidays in January."
The average Chino Hills boot camp client will lose 5 pounds their first month in the program. Over the course of three months, individuals can lose a good 15 to 20 pounds and reach their fitness goals. Each hour is specially designed to maximize calorie burn and rev up the body's metabolism to encourage more calorie burn outside the gym too. When combined with the Fit Concepts' nutrition program of lean protein, fruits and vegetables, complex carbohydrates and low-fat dairy, the body is adequately fueled before and after each workout to provide the best possible results.
"At Fit Concepts, we give you all the tools you need to succeed in your goals," says Sam Bakhtiar. "Whether you have 100 pounds to lose or just five, we'll work to motivate, encourage and assist you in building muscle, losing fat and conditioning your core." He adds that the group atmosphere makes the Chino Hills boot camp program more affordable – and more fun.
The philosophy of Fit Concepts Chino Hills Boot Camp is that there are no infomercial products or magic supplements that can lose the weight for people. At the end of the day, it all comes down to making that time commitment, putting fitness first, and staying motivated long enough to see results. It takes a bit of self-restraint and portion control. It takes sweating and challenging oneself with rigorous activity. People can reserve a spot in the class by texting FITCONCEPTS to 77453, by calling 909-393-9075 or by visiting http://www.FitConcepts.com.
About Sam Bakhtiar
Sam Bakhtiar is a Persian-born American with over twenty years of experience in fitness training and body building. After completing B.S in Premed and Nutrition, Sam also received a degree of doctorate of Chiropractics. Along with being one of the best fitness trainers, Sam is also a business and marketing expert. After establishing a successful fitness training business with substantial income, Sam is helping other professionals in the industry to achieve their business goals. For more information, please contact using the following information.
Contact Information:
Sam Bakhtiar
Fitness Concepts
909-393-9075
http://www.FitConcepts.com
###