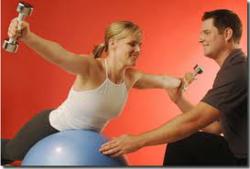 The starting point for improvement is to recognize the need. ~ Masaaki Imai
Chino Hills, CA (PRWEB) December 28, 2011
The average body takes a substantial hit during the holiday season. People are working out less, eating more and suffering escalated levels of stress. They have less time to sit down and eat healthy meals and they are consuming more alcohol, to boot. The holidays can still be fun without the excess, says Chino Hills Fitness Expert Sam Bakhtiar of the Fit Concepts franchise, and we can still get everything done without neglecting our health.
Dr. Sam Bakhtiar offers the following Chino Hills fitness tips for the holidays:
Don't hide from your scale. Get it out and weigh yourself each week to see if your food intake needs a serious adjustment. Often times, people don't realize how much they're overeating until the scale tells them so.
Keep a food journal. You're more likely to be accountable for what you're consuming this way.
Squeeze in morning workouts, first thing. You can't make excuses about being too busy if it's over and done with. If you only have 30 minutes, make it count by interval training – a few minutes of rigorous intensity, followed by a recovery period. Studies show this approach burns the most calories and offers the most health benefits.
Schedule time to relax, whether it's 30 minutes of mindful yoga, a hot soak in the bathtub, or an hour of reading before bed, keeping your cortisol levels down will prevent unnecessary weight gain and maintain your sanity during this stressful time.
Enjoy family-oriented outdoor activities. Head to the mountains to do some skiing, sledding, ice skating or snow-shoeing. Make it a ritual to take family after-dinner walks to stay active and promote fitness in your household. Get out and enjoy a bike ride or jog through a scenic park.
Sign up for a January fitness boot camp and weight loss program to start the year off right.
"Our Chino Hills fitness programs are in such high demand because people are walking out of here 30 to 100 pounds lighter. They feel empowered, stronger, leaner, healthier and more energized," Sam explains. "That's why you keep hearing so much about this 'fitness boot camp' trend and how 'addicting' it is. Who doesn't want to feel mentally and physically incredible? Boot camps pack a powerful punch in just an hour of time and your fat burning machine is revved up even after you leave the gym."
"December is a bit like the calm before the storm at any local fitness club," Sam Bakhtiar explains. "Then, like clockwork, come January, it's a zoo of people who want to sign up for a weight loss boot camp and get back on track with their fitness." Unfortunately, he says, there are only so many spots available, so the smartest people should sign up in December to ensure their position in one of the Chino Hills classes. Right now, the Fit Concepts Chino Hills Fitness center is offering a special holiday promotion of $100 off any program for people who text "FITCONCEPTS" to 77453 by December 30th.
About Sam Bakhtiar
Sam Bakhtiar is a Persian-born American with over twenty years of experience in fitness training and body building. After completing B.S in Premed and Nutrition, Sam also received a degree of doctorate of Chiropractics. Along with being one of the best fitness trainers, Sam is also a business and marketing expert. After establishing a successful fitness training business with substantial income, Sam is helping other professionals in the industry to achieve their business goals. For more information, please contact using the following information.
Contact Information:
Sam Bakhtiar
Fitness Concepts
909-393-9075
http://www.FitConcepts.com
###