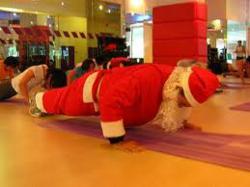 Success is not what you think it is... it is what you believe it is... and most never believe... ~ Doug Firebaugh
Chino Hills, CA (PRWEB) December 30, 2011
The average person will gain a pound this Christmas season, so it's no surprise that the top New Year's resolutions include "losing weight" and "getting healthier." The holidays bring temptations like eggnog, pumpkin pie, hams and Christmas cookies. And while a pound may not seem like a lot, researchers say that these pounds tend to add up for a cumulative effect – leading most people to gain an easy 10 or 20 pounds over the years.
Sam Bakhtiar would like to offer local residents $100 off his Chino Hills boot camp if they register for classes by December 30th. Individuals can simply text "FITCONCEPTS" to 77453 to redeem this promotional offer. Someone from Fit Concepts Chino Hills Boot Camp will then phone them back to set up an introductory consultation. During the initial meeting, newcomers will discuss their fitness goals and receive a customized month-by-month meal plan to help them get started.
"Weight loss is, by and large, a matter of diet," explains Sam Bakhtiar. "You could do crunches until the cows come home and have the best six-pack abs in the world, but what does it matter if your muscles are hidden beneath all the fat?" At Fit Concepts Chino Hills Boot Camp, people are encouraged to eat lean protein, leafy green vegetables, fruits, complex carbohydrates and low-fat dairy for complete nutrition. They are given tips on measuring proper portion sizes and how to snack in a way that indulges cravings, without packing on the pounds.
"We don't believe in expensive supplements or all those infomercial gadgets," Sam says. "Fit Concepts is all about fitness principals that have been thoroughly vetted and proven by science. We promote healthy, well-balanced eating for optimal health. Our boot camp gives participants 3-in-1 training that encompasses strength training, cardio and core conditioning."
A typical Chino Hills boot camp session includes interval training – periods of heightened intensity, followed by periods of recovery – which conditions the body to burn more calories while working and while at rest. Routines are surprisingly easy to follow, with sets of push-ups, squats, lunges, burpees and jumping jacks. Obstacle courses and team building exercises frequently shake things up and no two classes are ever the same.
"We basically want you to be challenged physically and mentally stimulated," the Chino Hills boot camp trainer says. "We want you to love working out with us and to really look forward to your exercise sessions three times a week. I know it sounds crazy, but we've converted some of the staunchest 'exercise-haters!' They love their improved energy levels, they love having that endorphin high, and they love the results, what can I say?"
About Sam Bakhtiar
Sam Bakhtiar is a Persian-born American with over twenty years of experience in fitness training and body building. After completing B.S in Premed and Nutrition, Sam also received a degree of doctorate of Chiropractics. Along with being one of the best fitness trainers, Sam is also a business and marketing expert. After establishing a successful fitness training business with substantial income, Sam is helping other professionals in the industry to achieve their business goals. For more information, please contact using the following information.
Contact Information:
Sam Bakhtiar
Fitness Concepts
909-393-9075
http://www.FitConcepts.com