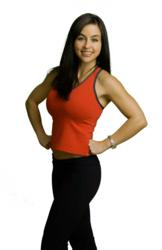 It is never too late to be what you might have been. - George Eliot
Chino Hills, CA (PRWEB) August 30, 2012
Overcoming mental stubbornness and adversity is the hardest part of losing weight. It requires commitment, dedication and ferocity, experts say. Often, it takes a month or more to begin noticing a real change in body composition. Meanwhile, over a dozen hours of fitness must be logged in and daily calories must be kept in-check. Alejandra Font, a Chino Hills personal trainer at The Camp Boot Camp, has five tips to getting mentally prepared to begin the weight loss process.
First, she recommends "getting real" with regard to one's lifestyle habits. "Many of us think, 'Well, what's one more spoonful of ice cream?' They eat because they feel they've earned it or deserve a break. They may feel like they're leading a generally healthy lifestyle, even when they haven't logged any fitness minutes for the week. We all lie to ourselves a little bit, but weight loss requires honesty."
To do so, Alejandra recommends keeping a food and exercise log for a few weeks. SparkPeople.com is a fun (and free) website that allows people the ability to do just that. The nutrition calculator adds up all calories, grams of fiber, saturated fat, sodium, and other stats from the foods entered, which can be very illuminating. At The Camp Boot Camp, all new participants to the fitness program sit down with Alejandra to develop a nutrition plan that will lead to better weight loss.
Next, she recommends setting realistic goals. "There are many measures for success here," she explains. "A Chino Hills personal trainer can help you consistently lose 2 pounds per week. It's not uncommon to see people lose about 10 pounds in a month at The Camp." She adds that participants can also chart progress by measuring their Body Mass Indexes, waist lines, dress sizes, or flexibility. "It's about getting healthy, not simply shedding pounds," Alejandra says.
Furthermore, one must overcome his or her stubborn mind by getting psyched up for fitness. "Positive affirmations are really important," according to Alejandra. "Before I go to bed at night, I've set up my gym bag and workout clothes. My water bottle is in the fridge, ready to go. As soon as I roll out of bed in the morning, I'm thinking about how great I'm going to feel leaving the gym. It sets the tone for the whole day."
The Chino Hills personal trainer recommends making CDs of inspiring, energetic songs to get pumped before a workout. Having an Energy Bar handy is also a good idea to boost the brain before a workout. "It means so much to surround yourself with other people who are working toward the same goal. We all help each other," she explains. "You have to be a little bit manic, a little bit crazy, to whip yourself into shape. It takes a dramatic mind and body adjustment. But in the end, you'll like who you've become."
More information on weight loss using the help of a Chino Hills personal trainer or group fitness boot camp class can be found at http://www.TheCampBootCamp.com.
Watch: http://www.youtube.com/watch?v=gqQorWqlNbw
About: Fitness Concepts was founded on February 15, 1999. Since then, the group has helped 5835 and counting clients improve the quality of their lives. The personal trainers at The Camp Boot Camp help clients achieve maximum results through proper training, nutrition and supplementation. Programs are focused on long-term health and success, not unhealthy quick-fix fad diets or hazardous gimmicks.
Contact:
14682 Central Ave.
Chino, Ca. 91710
(909) 693-5303
Contact(at)FitnessConcepts(dot)com