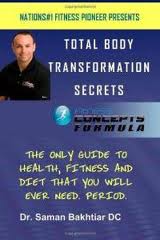 Do not worry if you have built your castles in the air. They are where they should be. Now put the foundations under them. - Henry David Thoreau
Chino Hills, CA (PRWEB) September 03, 2012
After 18 years as a competitive, title-winning bodybuilder and Chino Hills personal trainer, Dr. Sam Bakhtiar is offering his secrets in a new book called Total Body Transformation Secrets: Fitness Concepts Formula. This book is based on the California boot camp program Sam started more than a decade ago, but includes all the latest research in nutrition, fitness and weight loss.
Amazon readers give this book 5/5 stars, calling it a "masterpiece" and "simple, yet thorough." Beginners can use the book to find easy lessons they can apply to daily life to lose more weight. Fellow personal trainers can use the book to find new ways to reach and inspire clients. In fact, many of the reviewers are personal trainers who wanted to add to their existing knowledge.
"As a Chino Hills personal trainer for over two decades, I see that the biggest obstacle for most people is simple: mindset. The only thing standing between desire and success is stubbornness. My book will take people through all the emotional baggage that can sabotage a good workout," explains Sam. "Once your mind is prepped, I'll delve into some of the meatier issues."
Furthermore, he says, Total Body Transformation Secrets discusses how to grocery shop, how to cut down on fat and calories, and how to structure a proper diet that is easy-to-follow. Rather than waste people's time with "fluff," Sam sticks with actionable content based on getting into shape and managing one's weight. The "Before & After" pictures are particularly inspiring for people who are trying to find the courage to shed excess pounds.
Sam is more credentialed than most fitness writers. He immigrated to America from Persia to get his B.S. in nutrition and premed. From there, he went on to receive a doctorate of chiropractic. Now Sam earns more than $2.4 million a year from his business coaching, boot camp operation, and personal training businesses.
"I'm really passionate about spreading what I know," Sam says. "My Fitness Concepts franchise has boiled down weight loss and also sculpting the body to a more attractive physique into manageable steps. I understand that not everyone can come to Chino Hills to train at my facilities, so I thought the book would be a way to bridge the gap."
On Amazon, the Chino Hills personal trainer's book costs $40, but for a limited time, people can buy directly for $19.97 at http://www.FitnessGuruSam.com/Chino-Hills-Personal-Trainer.
About: Dr. Sam Bakhtiar is recognized as one of the top fitness, nutrition and metabolism experts in the nation. Dr. Sam coaches and trains individuals for weight loss, lean muscle gain, holistic wellness, and sports performance in Southern California. He also runs Fitness Concepts, One of the nation's top personal training facility located in Chino, CA. He is the only competitive bodybuilder who has a major first place title in every weight class the National Physique Committee.