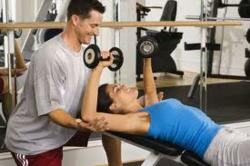 A successful man is one who can lay a firm foundation with the bricks that others throw at him. - Sidney Greenberg
Chino Hills, CA (PRWEB) September 17, 2012
People who are new to fitness training often aren't sure where to begin. Sam Bakhtiar, Chino Hills personal trainer and CEO of Fitness Concepts boot camp, says he encounters a lot of people who are "Cardio-addicted." After hours and months of treadmill running or biking, they are absolutely perplexed that they are not losing weight. "It's possible to get a lot done in 60 minutes if you combine cardio with resistance and interval training," Sam explains.
According to Sam, a picture-perfect 60 minute workout would look something like this:

Minutes 0-10: A warm-up is critical to get blood flowing to the muscles and prepare the mind to focus on the task at hand. Usually Sam's clients perform easy stretches and five minutes of light bodyweight movements. The class focuses on breathing techniques that will provide the cells with adequate oxygen to perform.
Minutes 10-35: Strength training is the next activity to tackle. Sam recommends 2-3 sets of 8-10 reps. "People often ask me how much to lift and I always recommend that you put on enough weight so that the last two reps feel nearly impossible to lift." He adds that compound lifts are best – like deadlifts, squats, clean and press, bent rows, upright rows, and military presses. This gives a more total body workout than isolation exercises, he says.
Minutes 35-50: Cardio training is next. Putting off cardio until after the resistance training ensures that more fat is burned. Moderate intensity cardio burns calories and clears out lactic acid build-up, although a more strenuous blast of cardio using intervals – a few moments at top-speed followed by a few moments of recovery – is a great way to maximize fat burn.
Minutes 50-60: Lastly, a cool-down is necessary to slow down the heart. Stretching and slow, controlled movements with deep breaths are important. Often, a Chino Hills personal trainer will throw core exercises like crunches, planks, lateral leg lifts, and other abdominal stretches.
And this is exactly what participants should expect when they sign up for Chino Hills boot camp. This new explosive 60-minute workout is guaranteed to shed off those stubborn body fats that you just can't seem to get rid off. This workout is very dynamic since constant changes to your workout program is vital to yield continuous progress.
"I have a lot more knowledge to share in my book," Sam adds. Total Body Transformation Secrets is now available as a FREE download at http://www.FitnessGuruSam.com. Previously, the hard copy of the book has been sold on Amazon for $39.99. This "weight loss bible" covers everything from developing the right mindset for a healthy lifestyle and how to grocery shop to effective workouts and fat-burning secrets. Readers say the book is straight-forward, simple to digest, and insightful.
Also watch http://www.youtube.com/watch?v=gqQorWqlNbw.
About Sam Bakhtiar
Sam Bakhtiar is a Persian-born American with over twenty years of experience in fitness training and body building. After completing B.S in Premed and Nutrition, Sam also received a degree of doctorate of Chiropractics. Along with being one of the best fitness trainers, Sam is also a business and marketing expert. After establishing a successful fitness training business with substantial income, Sam is helping other professionals in the industry to achieve their business goals. For more information, please contact using the following information.
Contact Information:
Sam Bakhtiar
Fitness Concepts
909-393-9075
http://www.FitnessGuruSam.com