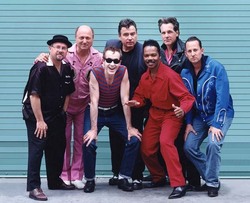 Lincoln City, Ore. (Vocus) April 28, 2009
The nostalgic rock group of the 70's Sha Na Na will perform live at Chinook Winds Casino Resort on Friday, May 8, and Saturday, May 9, 2009. Showtime is 8pm and tickets are $10 to $20.
Sha Na Na's story is an all-encompassing one: they were in the original Woodstock Festival lineup, starred in "Grease" (the most successful movie musical), hosted the "Sha Na Na" TV series for four years, and still play more than 50 concerts a year. From state fairs, performing art centers, casino showrooms to mega corporate functions world wide, Shan Na Na is still going strong.
The group taped 97 episodes of the Sha Na Na music variety shows from 1977 to 1981 that were seen - and still can be - in worldwide syndication. The shows, which featured Sha Na Na's music, plus the group in comedy skits with special guests, further established the group's credentials as a part of the landscape of rock 'n' roll America.
"Grease: The Movie" became another significant building block in the Sha Na Na story. The group appeared in the 1979 musical, as Johnny Casino and the Gamblers, and contributed to the original music score with six Sha Na Na versions of rock classics and one original song, "Sandy," co-written by Screamin' Scott Simon for John Travolta to sing.
Don't miss out on seeing Sha Na Na live in concert May 8 & 9! Tickets range from $10 to $20 and are on sale now. Show times are 8 p.m. For more information, or to obtain tickets, call 1-888-MAIN-ACT (624-6228) or TicketsWest, 1-800-992-TIXX (8499).
Chinook Winds Casino Resort offers 24-hour Las Vegas-style gaming, 18 hole golf course, headline entertainment featuring some of music's most legendary stars, three full service restaurants, secure childcare facility and arcade, and a 227 room ocean front hotel. Chinook Winds Casino Resort is located on the beach in Lincoln City, Oregon and is owned and operated by the Confederated Tribes of Siletz Indians. For more information please visit http://www.chinookwindscasino.com, call 1-888-CHINOOK (244-6665) or 541-996-5825.
CONTACT:
Heather Hatton
541-996-5766
# # #