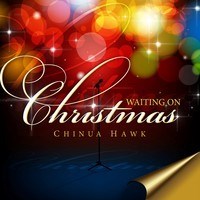 Celebrity Café raves that Hawk is "one of the most relevant R&B artists on the scene today. His singing immediately puts you at ease, so you feel as though you've been listening to him forever."
Atlanta, GA (PRWEB) December 09, 2013
Chinua Hawk is bringing soul back to the season with his latest holiday release, "Waiting on Christmas!" Hawk has collaborated with some of the most sought-after artists in the industry, including Kanye West, Talib Kweli, Wyclef Jean and Celine Dion, and is highly regarded as a tireless entertainer, sometimes performing more than 240 times in a single year! Every member of the band on the album has an equally impressive resume; they have all worked with top-tier artists, including Michael Jackson, Whitney Houston, Usher, and many more. Even with all of his commercial success, Chinua hasn't forgotten the reason for the season, and vows to donate $2 of every sale to one of his favorite charities, "Heart for Africa's El Roi Home for Babies." Waiting on Christmas is sure to bring the warmth of the holidays into every home with addictive grooves and a higher message of faith, unity and love.
From funky bass and drums to the splashy horns that fit right in the pocket, "The Most Wonderful Time" is a great opening track that will get your toes tapping and bring a smile to your face. That's because Chinua Hawk has learned from great artists like Stevie Wonder, Donny Hathaway, and Whitney Houston that "It's not just about the high notes or belting, it's about what you can make the listener feel." On the following track, "Christmas Time is Here," Hawk proves that he can deliver the classics with a smooth warm breathy tone that's sure to quickly warm up any cold winter's day. Other tracks like "Back in the Day" blend Motown and contemporary pop with tight harmonies and grooving guitars to create unique and very radio-friendly holiday jams!
Celebrity Café raves that Hawk is "one of the most relevant R&B artists on the scene today. His singing immediately puts you at ease, so you feel as though you've been listening to him forever." And from the very first listen, the reason is crystal clear--Hawk is blending the best of the old and the new with great versatility, bringing thoughtfulness and cheer back to the holidays. "My music is about real life, it's about encouraging people. This is the prize for me because I know if only for those two hours I've helped them forget about whatever was troubling them," Chinua explains. It only takes one listen to Waiting on Christmas to bring back the child-like magic of the holidays, so be sure not to miss this new Christmas classic-in-the-making!
You can learn more about Chinua Hawk at http://www.chinuahawk.com
For more information, images, or to arrange for an interview please contact Melissa Zeigler at Powderfinger Promotions: melissa(at)powderfingerpromo(dot)com.
Powderfinger Promotions–Independent Radio Promotion and Publicity. Since being founded in October 1994, Powderfinger has come to be regarded as a top indie radio promotion and publicity firm with ties across North America.