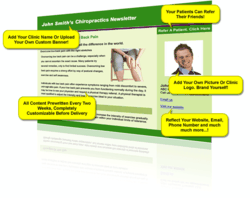 Systems technology is the answer, but many are intimidated by technology and don't even realize what they need.
Denville, NJ (PRWEB) January 21, 2012
"There's nothing more disheartening than when a practice dies a slow, silent death," said Chhoda. "For many private practice owners, this is exactly what happens and dreams are shattered."
A recognized authority on marketing small and medium sized businesses, Chhoda has assisted individuals in achieving greater earning potential in endeavors that include dental offices, physical therapy clinics and chiropractic practices. The efficient management of time and technology is essential, and Chhoda offers solutions to help practice owners avoid sabotaging their own business.
Time is Money
Chiropractors are in the business of seeing patients, yet they often spend massive amounts of time performing tasks that can easily be delegated to office staff or outsourced to a competent firm. It's the little things, such as ordering supplies, making phone calls and returning emails that eats away at valuable time. Chhoda calls these low dollar value activities and says they can be the death of any company.
"Many practice owners spend up to 85 percent of their time doing low dollar value activities," said Chhoda. "When you spend that much time on small tasks, you don't own the business, the business owns you."
For those who don't want to hire an outside firm, Chhoda suggests a technological solution such as Clinical Contact (http://www.clinicalcontact.com) that automatically takes care of email contacts, social media and mobile marketing. Such services can also conduct chiropractic marketing campaigns, provide website sign-up pages for lead generation, and give patient appointment reminders. Chiropractic businesses will benefit through obtaining new patients and having more time to spend with them.
Technology is Good
Every business owner needs a strategy to define goals and lay a path for how to achieve those objectives. Marketing, retirement and consulting are all high dollar level activities that need to be addressed early. Technological systems must be employed for every step, from scheduling patients to billing procedures, yet many practice owners still aren't availing themselves of the many opportunities available.
"Systems technology is the answer, but many are intimidated by technology and don't even realize what they need," said Chhoda. "Products like chiropractic newsletter represent just one of the many automated resources available to professionals to retain current patients and attract new ones."
The management of time and system resources is crucial if chiropractors are to develop a successful business that continually draws new patients for growth and expansion. Chhoda's technology solutions offer sophisticated means for keeping practices running smoothly and to help plan an exit strategy for retirement. Correct management of the two insures that businesses survive and prosper.
Chhoda's office can be reached by phone at 201-535-4475. For more information, visit the website at http://www.nitin360.com.
ABOUT NITIN CHHODA
Nitin Chhoda is a licensed physical therapist, a doctor of physical therapy, and a certified strength and conditioning specialist. He's the author of "Total Activation: The New 5 Step Fitness Mantra" and "Marketing for Physical Therapy Clinics." He's been featured in numerous industry magazines, major radio and broadcast media, and is the founder of Referral Ignition training systems, Private Practice Summit, the Private Practice Formula and the Private Practice Mastermind group. Chhoda speaks extensively throughout the U.S., Canada and Asia. He's the creator of the Therapy Newsletter, along with Clinical Contact, a web-based service that boosts patient arrival rates.
###