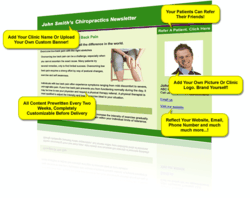 It's the humanity, caring and approachability of the chiropractor that brings patients into the practice and keeps them coming back for treatment.
Denville, NJ (PRWEB) February 27, 2012
"Patients are seeking a return to a personal touch in their interactions, particularly with their health care providers," said Chhoda. "Clients don't want a relationship with a practice.Like with chiropractic business, they want a rapport with the chiropractor and the staff that provide the services they need. Those who see their practice flourish in the 2012 economy will be those who have learned to use humor and communications to brand themselves rather than focusing on the practice.
It's crucial that those looking to succeed in 2012 with their chiropractic businesses put this concept into practice or run the risk of shutting their doors sooner than later.
A recognized authority on chiropractic marketing, as well as small and medium sized businesses, Chhoda has perfected the art of communicating with established patients and new clients that generate referrals and increase revenues. He noted that a simple postcard, email or text message does more to make a chiropractor memorable than efforts spent on lavish marketing campaigns that feature the practice and not the doctor.
To become the preferred provider within a given geo-physical location, it's essential for patients and potential clients to see and hear the chiropractor's name as often as possible. Chhoda said that can be accomplished through automated office systems such as clinical contact.
Humor is always a welcome diversion for patients and Chhoda noted that an amusing postcard, cleverly worded email, or interesting text message is a cost effective way to grab the attention of clients. Such communications show the chiropractor as a professional that's approachable, sympathetic and someone with which they can communicate easily.
Branding works well for large companies such as Coca-Cola, but it does little for small practices who will obtain the majority of their patients from a localized area. Utilizing branding techniques for a small practice can showcase services, but it says nothing about the chiropractor. Patients who seek a friendly and knowledgeable professional may actually hesitate to schedule an appointment. Chhoda noted that an integral part of providing a superior level of service involves building a rapport with patients for return business and creating referrals. One of the few ways is providing patients with chiropractic patient newsletter.
Chiropractors who focus on marketing their practice rather than themselves are missing multiple opportunities to increase their client base. Chhoda noted that as more patients seek chiropractors that place an emphasis on a personal touch, it becomes more important for doctors to sell themselves while maintaining state-of-the-art techniques and services. It's the humanity, caring and approachability of the chiropractor that brings patients into the practice and keeps them coming back for treatment.
Chhoda's office can be reached by phone at 201-535-4475. For more information, visit the website at http://www.nitin360.com.
ABOUT NITIN CHHODA
Nitin Chhoda is a licensed physical therapist, a doctor of physical therapy, and a certified strength and conditioning specialist. He's the author of "Total Activation: The New 5 Step Fitness Mantra" and "Marketing for Physical Therapy Clinics." He's been featured in numerous industry magazines, major radio and broadcast media, and is the founder of Referral Ignition training systems, Private Practice Summit, the Private Practice Formula and the Private Practice Mastermind group. Chhoda speaks extensively throughout the U.S., Canada and Asia. He's the creator of the Therapy Newsletter, along with Clinical Contact, a web-based service that boosts patient arrival rates.
###