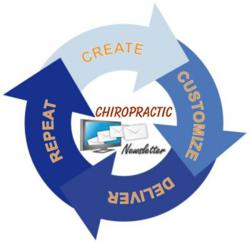 Chiropractic Newsletter have done a sterling job in creating, delivering and offering customer support.
Denville, NJ (PRWEB) August 29, 2012
Chiropractors who have less time in organizing and making a valuable information for patients have been provided a regularly updated video tutorials and 24/7 customer service in order to maximize the use of this marketing material.
Chiropractic newsletter's completely automated system delivers an entirely customizable newsletter to patients with the clinic's name or the chiropractor's business as the sender highlighting the contact information. A new service added for chiropractors in 2012, a first in the industry, http://www.emrnews.com/health-care-management-and-medical-billing-relationship/.
Detailed advertising video tutorial for the members area are accessed easily to customize the use of newsletter. If there are some additional questions or assistance that the members need, a dedicated staff can be easily reached via email, chat or phone.
"This is an outstanding product for physiotherapists who wish to automate their marketing. As a physiotherapist in the UK, I must say that such solutions are welcome additions to clinics trying to juggle the demands of patient care and marketing at the same time, and I think Nitin and the staff at Chiropractic Newsletter have done a sterling job in creating, delivering and offering customer support (Nitin personally called me twice to make sure I was able to maximize the use of the system). I would gladly recommend this to all physiotherapists across the world," Elizabeth Thompson from UK selflessly shared her experience with the Chiropractic Newsletter.
Chhoda's office can be reached by phone at 201-535-4475. For more information, visit his website at http://www.nitin360.com
ABOUT NITIN CHHODA
Nitin Chhoda is a licensed physical therapist, a doctor of physical therapy, and a certified strength and conditioning specialist. He's the author of "Total Activation: The New 5 Step Fitness Mantra" and "Marketing for Physical Therapy Clinics." He's been featured in numerous industry magazines, major radio and broadcast media, and is the founder of Referral Ignition training systems, Private Practice Summit, the Private Practice Formula and the Private Practice Mastermind group. Chhoda speaks extensively throughout the U.S., Canada and Asia. He's the creator of the Therapy Newsletter, along with Clinical Contact, a web-based service that boosts patient arrival rates.