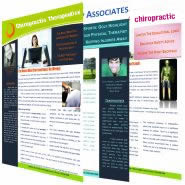 The demand for chiropractors is increasing, with hundreds of new clinics being launched every year.
Denville, NJ (PRWEB) January 07, 2012
"Successful chiropractic clinics are created and thrive on a combination of proven systems working together," said Chhoda. " This brand new chiropractic newsletter marketing technology will help clinics build trust with patients, and educate them on treatment philosophies and options, improving the patient experience and reducing the patient's cancellation rate."
Chhoda has changed the productiveness and profit margins of thousands of chiropractic practices throughout the U.S., Asia and Canada. One of the key elements in his strategies is the use of newsletters to inform, educate and generate referrals. They're a cost effective way to advertise, promote and market any chiropractic business.
The benefits of patient newsletters are many. They attract new patients, stimulate referrals and helps practices maintain contact with established clients. Successful chiropractic clinics have one common trait – they've established a relationship with their clients. Regular patients want to know they're appreciated and new clients seek professionals that treat them as more than a billing number.
To assist in chiropractic marketing, a done-for-you newsletter solution has been created by Chhoda and was just released. Chiropractic Newsletter can be customized to accommodate the needs of individual practices. The professional marketing tool provides everything needed to create and distribute patient newsletters through a variety of methods.
The demand for chiropractors is increasing, with hundreds of new clinics being launched every year. Patient newsletters assist chiropractors in distinguishing their practice from competing chiropractors, physical therapists and local doctors. They define treatment niches, clarify services, and work to market the user's name and brand. Specialties can be featured and information provided that demystifies the chiropractic experience and highlights the benefits.
Newsletters are versatile and can be delivered through a wide variety of means, including mobile devices. Newsletters can be sent by mail to older patients who may not be as tech savvy as younger individuals. Chiropractic patient newsletters can be sent by email, printed and handed out at the office, and placed in the offices of complementary businesses.
Chiropractic newsletters are multifaceted and professional tools that work to promote and market the user's business 24/7. A business must have a steady stream of patients to be profitable. Chiropractic patient newsletters aid in creating relationships with established clients, attracting new patients, and generating referrals that insure more patients and greater revenues.
Chhoda's office can be reached by phone at 201-535-4475. For more information, visit the website at http://www.nitin360.com.
ABOUT NITIN CHHODA
Nitin Chhoda is a licensed physical therapist, a doctor of physical therapy, and a certified strength and conditioning specialist. He's the author of "Total Activation: The New 5 Step Fitness Mantra" and "Marketing for Physical Therapy Clinics." He's been featured in numerous industry magazines, major radio and broadcast media, and is the founder of Referral Ignition training systems, Private Practice Summit, the Private Practice Formula and the Private Practice Mastermind group. Chhoda speaks extensively throughout the U.S., Canada and Asia. He's the creator of the Therapy Newsletter, along with Clinical Contact, a web-based service that boosts patient arrival rates.
###