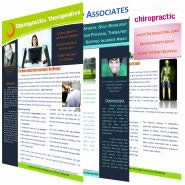 Everyone enjoys getting something for free and eBooks provide practice owners with an ideal opportunity.
Denville, NJ (PRWEB) February 18, 2012
"Providing instant downloadable eBooks and chiropractic patient newsletters after entering their name and email address to the website can actually help collecting patients' email addresses quickly," Nitin Chhoda says.
Chhoda, a premier marketing expert in small and medium-sized practices, has recently assisting chiroprators build trust for those who are scared of chiropratic procedures so as to increase patient booking this year. He is also a recognized authority in offering newsletter and eBooks to patients, and aided businesses worldwide in increasing patient base and adding new resources of revenue.
Chiropractic marketing services generally offer a single solution for creating and distributing quality information that prospective patients are eager to read, allays fears, and promotes the chiropractic profession. People fear what they don't understand and newsletters offer a friendly avenue to understanding. One such solution is the Chiropractic Newsletter™ that stimulates referrals, attracts new patients and retains established clients. The service offers customizable newsletters that are automatically created and distributed for clients, allowing users to concentrate on running their business.
In today's economy, chiropractic marketing plays a very important role. To inform patients, newsletters are provided and is now delivered online through email aside from regular mail. It can be placed in offices of complimentary businesses, given out in health fairs, or can be offered in promotional events. Newsletters are also recommended in special deals for new patients and rewards for established clients.
Everyone enjoys getting something for free and eBooks provide practice owners with an ideal opportunity to explain the benefits of procedures and free potential patients from the fear of seeing a chiropractor. Practice owners can provide factual and informative material with eBooks on a comprehensive array of topics that include pain relief, proper posture and when to seek the services of a specialist. Publications can be personalized with the business owners name and contact information.
Once the visitors of the business website entered their email addresses, they already implied permission to contact them. This way, chiropractors can send greetings, appointment reminders and provide newsletters vial email. Notices and information can be customized to appeal to specific patient demographics for increased marketing impact.
Chiropractic patient newsletters and free eBooks are valuable marketing tools for acquiring new clients and patient retention. They're easy to create, customize and distribute. Newsletters and eBooks offer an inexpensive means of building reputations and dispelling the fallacies and myths of chiropractic services.
Chhoda's office can be reached by phone at 201-535-4475. For more information, visit the website at http://www.nitin360.com.
ABOUT NITIN CHHODA
Nitin Chhoda is a licensed physical therapist, a doctor of physical therapy, and a certified strength and conditioning specialist. He's the author of "Total Activation: The New 5 Step Fitness Mantra" and "Marketing for Physical Therapy Clinics." He's been featured in numerous industry magazines, major radio and broadcast media, and is the founder of Referral Ignition training systems, Private Practice Summit, the Private Practice Formula and the Private Practice Mastermind group. Chhoda speaks extensively throughout the U.S., Canada and Asia. He's the creator of the Therapy Newsletter, along with Clinical Contact, a web-based service that boosts patient arrival rates.
###